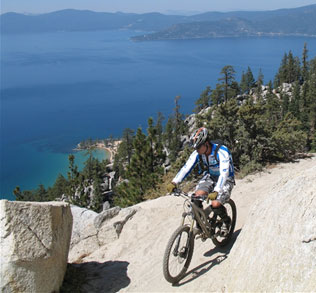 There are many great mountain biking destinations in and around Southern California.  A short drive away, you'll find Death Valley full of life for mountain bikers.  Death Valley is 200 miles northeast of Los Angeles and has 100s of miles of routes for mountain bikers.  The first time I visited Death Valley, I was amazed at the diversity and beauty of the landscape.  Of course, with temps reaching into the 100s in the summer, you might want to save this destination for the winter months.
A bit further on, you'll love Lake Tahoe for mountain biking.  It's about a 7.5 hour drive from Los Angeles and well worth the trip.  Like many ski areas, you'll find oodles of mountain biking options for all levels.  You can even opt to take a ski lift up a mountain and savor the view on the ride down.  The scenery is unbeatable.
Another place to consider road-tripping to for a mountain bike vacation is Las Vegas (about 5 hours from Los Angeles).  Not typically thought of for it's outdoor activities, you'll find quite a few mountain biking options near Las Vegas.  In particular, check out Red Rock Canyon. Red Rock Canyon is dramatic with a mix of gray mountains, red cliffs, and barren flats.  You may see pictographs from ancient Aztecs, rock climbers and geological wonders.  Forged under a deep ocean, the rocks of Red Rock Canyon were created by an abundance of rich marine life flourishing and finally depositing shells and skeletons more than 9,000 feet thick.  It's only about 30 minutes outside of Las Vegas so, all in a day, you can experience the wonders of the natural world juxtaposed with the man-made wonder that is Las Vegas.