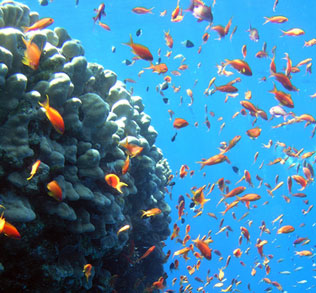 SCUBA diving offers many things to different people: a chance to be an intrepid explorer, observe wildlife, find solace & commune with nature, live life on the edge – you name it. But above all else diving affords a person to get out of their element and experience being in a different environment, one that is very important to all of us.
Most people equate diving with tropical coral reefs and indeed they are some of the most spectacular ecosystems on earth. I have been fortunate to have visited some of the best reefs around the world and can truly say that the explosion of life and color is something to behold. Yet I find the same kind of amazement diving off the local kelp forests in Southern California and other cold water environments. These kinds of places provide outstanding diving experiences with lots of varied marine life and a ton of color as well.
Aside from the ocean, SCUBA diving is also thriving in inland locales with many diving sites such as lakes, rivers, and quarries. I first learned to dive many years ago in the freshwater springs of northern Florida and to this day one of my most memorable moments was diving with the graceful manatees that inhabit those springs.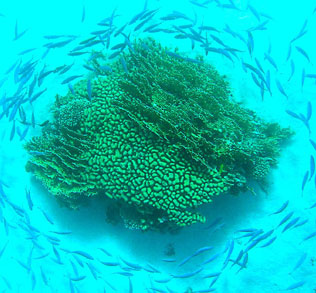 All of the recent advancements in technology and diving science have made this an extremely safe activity once you obtain proper instruction. There are a number of schools where you can learn to dive and most are affiliated with one of 2 organizations – PADI (Professional Association of Diving Instructors) or NAUI (National Association of Underwater Instructors). Schools are found all over the US and worldwide and in fact many people will organize a trip specifically to learn to dive. Another popular option is for students to learn the coursework in their hometown and then do their "checkout" dives while on their trip. Regardless of which school or option you choose, it is important to remember that since this is a potentially dangerous activity, it's very important that you find an instructor who you feel comfortable with and will be patient with your learning.
A popular misconception is that diving is a very expensive activity and while this can be the case with top-of-the-line equipment and exotic liveaboard trips, the reality is that costs have come down greatly. Good quality gear can be rented from nearly all dive shops and remembering all of the different areas where one can dive (not just the tropical ocean!) then the expense becomes much more reasonable.
Alex Mortensen
I believe the most important aspect of diving is the respect one can gain from visiting the underwater world and realizing the importance of doing everything possible to protect these environments. Growing up by the beach, I've seen firsthand the detrimental effects man-made activities such as pollution and over-fishing can cause. I have also seen what can happen when grassroots organizations such as Heal the Bay and the Surfrider Foundation step in and take actions to improve the environment. I do firmly believe that once someone experiences these ecosystems for themselves they will realize the importance of doing everything possible to ensure we protect these environments. I also firmly believe that once you have a taste of diving you will become hooked for life by the beauty of this magical world!
A huge thank you to our good friend Alex Mortensen for his guest blog. – Rich