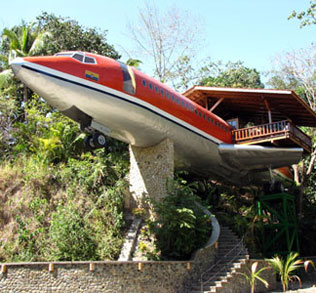 Ever wonder what happened to the Boeing 727? Growing up as the son of an airline employee, I spent quite a bit of time on 727s. Well, the Hotel Costa Verde in Manuel Antonio, Costa Rica has refurbished a vintage 1965 Boeing 727 airframe and transformed it into a 2 bedroom Boeing 727 fuselage suite. Formerly, it shuttled globetrotters around as part of South African Airlines and Avianca Airlines.
The airplane's frame was salvaged one piece at a time from its resting place at San Jose airport and then transported on five big-rig trucks to the jungles of Manuel Antonio where they were reconstructed. This one-of-a-kind hotel suite is nestled on the edge of the National Park and perched on a 50 foot pedestal. Guests can enjoy scenic ocean and jungle views from the deck built atop the plane's former right wing. Imagine enjoying an evening on the terrace while sipping a cocktail and observing your tree top neighbors: sloths, toucans and monkeys. The plane's interior is lined with teak paneling from the cockpit to the tail and furnished with hand-carved, teak furniture from Java, Indonesia. The 727 suite features two air conditioned bedrooms, each with its own private bath, a flat screen TV, kitchenette, dining area foyer and an ocean view terrace.
If you're an airplane nut like I am and are planning a trip to Costa Rica, you should definitely stay here or at least check it out.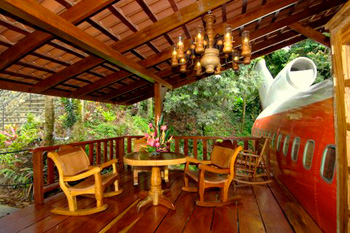 photos via: costaverde.com