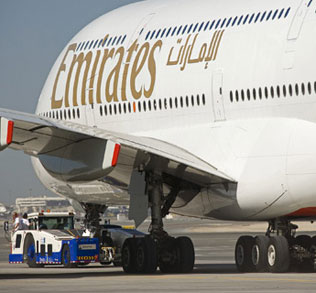 As a self-proclaimed airplane geek, it was quite a thrill for me to fly from Dubai to New York on an Emirates Airbus A380 this past week. The plane is absolutely enormous with a wingspan of over 261 feet which is longer than the overall length at just over 238 feet. At first glance, the ginormous wing assembly is what stuck out to me. Instead of the wings being attached directly to the fuselage, there is an additional mounting bracket that wraps around the bottom of the plane to which the wings are attached. The wing design itself also differs dramatically from other wings with a unique shape and angles. Depending on the configuration, passenger capacity can reach 600 and its maximum range is 8,000 miles.
The Emirates A380 offers customers in all classes a whole new travel experience that includes more space per passenger. Designed to transport passengers on long-haul journeys in unmatched comfort, the Emirates A380 boasts First Class Shower Spas, a spacious on-board lounge, and the award-winning 'ICE' in-flight entertainment system offering over 1,000 channels of movies, music and games on-demand in all classes.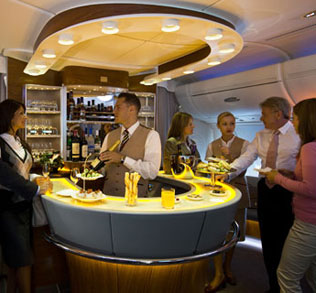 Currently, A380s are operational on the following daily Emirates flights: EK 201 from Dubai to New York JFK International Airport; EK 202 from New York JFK International Airport to Dubai; EK 001 from Dubai to London Heathrow; EK 002 from London Heathrow to Dubai; EK 412 from Dubai to Sydney and Auckland; and EK 413 from Auckland and Sydney to Dubai. Effective 1 June, Emirates will operate two additional A380s on flights EK 241 from Dubai to Toronto, EK 242 from Toronto to Dubai, EK 372 from Dubai to Bangkok and EK 373 from Bangkok to Dubai daily.
Overall, I highly recommend Emirates for long-haul journeys. The product and the experience that Emirates offers its customers is of the highest quality and, as a lifelong traveler, I have never experienced an airline that pays more attention to detail.