Home » Just for Fun, Lifestyle + Culture, travel advice
The Hostel in a 747 Jumbo Jet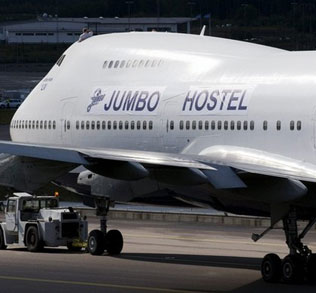 Hostel World is exhibiting at the 2009 Annual NAFSA Conference and Expo in Los Angeles this week and I made sure to stop by their booth. As we discussed the hottest and coolest flashpacking hostels this summer, the Jumbo Hostel came up. The Jumbo Hostel is a Boeing 747 jumbo jet that has been converted into an upmarket hostel located at Arlanda Airport in Stockholm, Sweden. Located a short ten minute walk from the check-in counters, the Jumbo Hostel is ideal for anyone catching an early morning flight.
The Jumbo Hostel has 74 total beds in 25 rooms with either two beds, three beds or a four bed dormitory style. Each room has a flat screen TV where you can, among other things, watch the times of the departures and arrivals. Found on the plane's upper deck is the best room, known as the cockpit suite, with private bathroom. Wi–Fi access is available everywhere in the jumbo jet and the Jumbo Cafe sells light snacks and beverages. To make it convenient for guests coming and going at different times, the Jumbo Hostel is open and staffed 24 hours a day.
While we would consider this to be a pretty expensive hostel with dorms starting at around 50USD (the Cockpit Suite goes for 265USD a night), the whole experience is well worth spending one night here. To book a bed at the Jumbo Hostel, please click here.