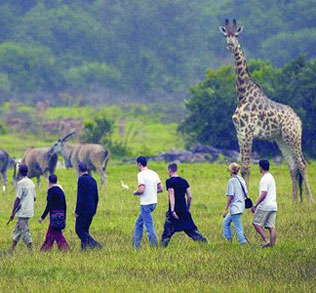 Whether you want to take a simple stroll or enjoy a more energetic mountain ride across the park, the Buffalo Hills African Adventure Reserve at Plettenberg Bay on the Cape Garden Route is sure to provide an intimate game viewing experience. Visitors can take private guided tours of the reserve on foot and leisurely walk alongside anything from zebras to giraffes. Other sightings could include bushbuck, impala and eland.
Hire a bike and take yourself through the reserve at a pace that suits you. Boasting rich, indigenous Cape flora, the forest makes for fascinating scenery on your afternoon cycle. As the sun starts to dip, sample some home grown mampoer from the local distillery before sitting down to an authentic, African gourmet meal at the reserve's own "African Boma."
As part of its commitment to sustainable tourism, the reserve is especially dedicated to keeping the local community employed. For more information, contact a certified southern Africa specialist at saspecialist@brillianttrips.com.