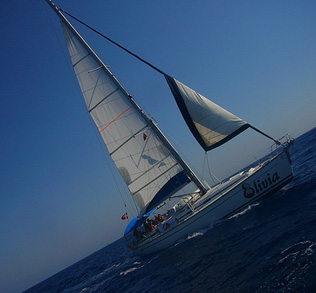 Ah, sailing the clear blue sea. The perfect escape from daily life. Can you feel the warm breeze washing over your body and clearing your head just thinking about it? I dream of silently gliding past a picturesque coast under sail in a perfect breeze and gazing out to the horizon.  I also dream of laying peacefully at anchor with a star filled sky silently overhead as the moon cuts a glittery path across the water.
We asked our friend Dick, an experienced and accomplished sailor, for some advice on chartering a sailboat and what his favorite places to sail are. Dick starts by pointing out that "The Moorings is probably the best idea. The charter companies get rated from time to time in the various sailing magazines. The Moorings and Sunsail were always at the top. They charge more money but you typically have fewer problems which could ruin a short sailing vacation." He adds that potential sailors "might be able to go on some of the magazine websites to get more accurate info on the different charter companies. Magazines like Sail, Sailing, Blue Water Sailing, Yachting, Latitudes and Attitudes to name a few. The Moorings has excellent info on the various locations along with time of year, weather conditions, sailing conditions (…some areas are more challenging than others) etc. They have also done all the research so I would think that they would have bases in all the areas which they would consider good sailing and also areas they consider safe."

From Dick's perspective, here are the Top 10 charter sailing locations where he has sailed from around the world:

1. Tahiti – The most beautiful. Conditions = Moderate
2. Tonga – Interesting, somewhat remote.  Conditions = Moderate
3. Turkey – Very interesting, great marina facilities. Conditions = Moderate
4. Greece – Very interesting from a historic viewpoint. Conditions = Can be quite aggressive
5. French Riviera – Interesting marinas, certainly helpful to speak French. Conditions = Moderate
6. Corsica and Sardinia – Interesting history. Conditions = Can be aggressive
7. Balearic Islands – Interesting history. Conditions = Can be aggressive
8. Belize – Just came back. Not user friendly as it is difficult to anchor, very few mooring balls and no supplies once you leave the base. So no ice after the first day or anything else like bread, eggs etc without returning to the base. Conditions = Moderate
9. BVI's – Usually the first place most people go when they first charter as locations are close together and there are things to do on shore. Conditions = Easiest
10. Rest of the Caribbean / St. Barths – The best for less experienced sailors. Conditions = Usually moderate.
IMAGE VIA: LouisL on Flickr