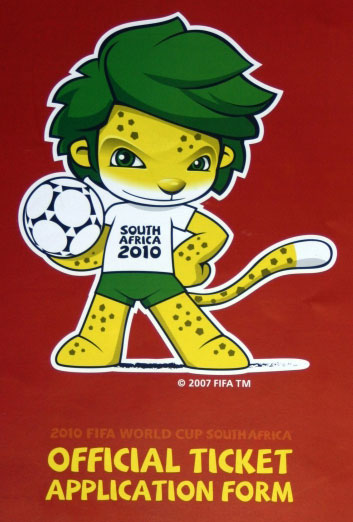 Phase 2 of ticket sales for the world's largest sporting event is now underway. From now through November 16, 2009, tickets will be processed on a first come first served basis. Fans are limited to applying for 4 tickets per game for a maximum of 7 games and can apply for tickets directly through FIFA.com. Demand for tickets to the 2010 FIFA World Cup has been so heavy that, within 24 hours of going on sale, close to 217,000 ticket applications from 128 countries had been received.
For the 2010 FIFA World Cup, there are two different kinds of ticket options available. There are individual game tickets as well as team specific tickets. Team specific tickets allow fans to follow their national team as they progress through the tournament from 3 up to 7 games. If a team is knocked out in any of the rounds, the ticket will still be good for the allotted number of games.
Tickets are available in four different price categories. The most expensive being Category 1 and the least expensive being Category 4.  The most expensive Category 1 tickets are available to all fans and range from 1,120ZAR (about 140USD) for opening round games to 6,300ZAR (about 785USD) for the final. The least expensive Category 4 tickets are reserved for South African residents only and range in price from 140ZAR to 1,050ZAR. Team specific tickets for Category 1 range from 3,696ZAR (about 460USD) for 3 games to 19,096ZAR (about 2375USD) for 7 games.
To apply to purchase 2010 FIFA World Cup tickets visit FIFA.com.