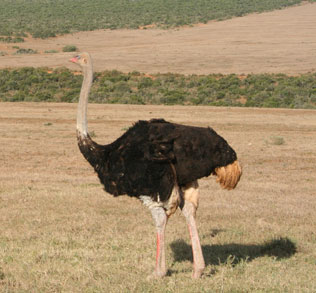 A few years ago I spent 10 days traveling along the coast of South Africa from Durban to Cape Town as part of an adventure tour. Upon receiving my itinerary and having a read, one thing that stuck out at me was the chance to stop at an ostrich farm on our fifth day. There would be races with fired up ostriches straddled by seasoned jockeys and the opportunity to ride an ostrich myself. Cool, I thought, I'm in. The trip got off to a great start and, after a night in Durban and two nights in Cintsa, we arrived in Knysna where we stayed in a simple backpackers lodge ideally situated right on the beach in Buffalo Bay. While the waters were far too rough to enjoy a swim, we enjoyed a great evening on the beach playing football, taking pictures and hanging out around a cooler filled with Hansa.
After enjoying a fantastic African Braai served on the open patio right on the beach, most of us retired back inside to the common area where various card and drinking games ensued. As is often the case, these went on until the wee hours of the morning. Now, this was in November and, at that time of the year, the sun starts to rise at maybe 3:30 or 4am. When we noticed that the sun was coming up, everyone started going to bed as the following day we were heading to the ostrich farm and then on to do an adventure tour through the Cango Caves. However, just as I got up to go to my room, my buddy Jake, who had gone to bed much earlier, woke up and came outside.  This initially meant each of us cracking open another beer, but when he noticed the sun was rising, we each grabbed just one more and headed out to climb some beach rocks and enjoy the sunrise from there.
The sight of the sun rising over the beach and Buffalo Bay was absolutely amazing. It was one of those things vacations are made of; the feeling of not having to worry about work while conquering the night and enjoying a sunrise on a beach in Africa, thousands of miles from home. Once the sun was up, we decided to take a walk down the beach to the little town of Buffalo Bay where I remember climbing in flip-flops up a steep sand dune covered with ice plant. Once we made it up the dune, which I was worried may have a few snakes hiding within, Jake and I walked through a few neighborhood streets as a few early risers walked their dogs under the bright morning sun. After finding a convenience store and a restaurant that were both closed, we headed back to the backpackers where people were awake and taking showers. I grabbed my stuff, took a shower and joined the group on the back patio for breakfast. Upon sitting down, the table was buzzing with talk about riding ostriches.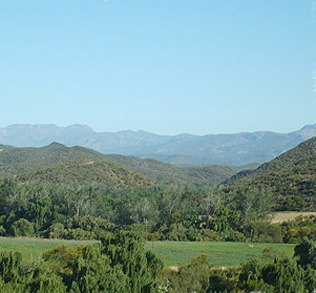 After breakfast, we all piled into our Sprinter and started our two and a half hour drive to Oudtshoorn, the ostrich capital of the world. Apparently, nowhere else are ostriches found in such great numbers and nowhere else do they produce such fine feathers. During this scenic drive that follows a dramatic and picturesque pass with views of great natural beauty, I crashed hard. Upon arriving at the ostrich farm and waking up, I remember feeling pretty out of it as we walked around under the hot sun. I even tried jumping up and down while shaking my head back and forth to wake myself up. After a trip to the gift shop to get something ice-cold to drink, I joined the group for a tour of the farm. We walked around various parts of the farm and enjoyed an ostrich race which included colorful jockeys "hootin' and hollerin'" upon some really quick ostriches.
Next was our chance to ride an ostrich.  The rest of the folks in my group, aware of both my original desire to ride an ostrich and my current condition, were really starting to razz me about it. Our guide brought the group over to a fenced in pen area where we all had a seat on bleachers. I immediately noticed that the ground within the pen was covered in ostrich poo. The demonstration began as one of the jockeys, from the race we just witnessed, came over and showed everyone how to mount the ostrich and hold on. During this demonstration, I noticed that the ostriches were running around the pen and weren't exactly lined up waiting to give people rides. The jockey then climbed the step ladder, mounted the ostrich and took off on a wild ride around the pen. When the guide asked who wanted to take the first ride, I sat back and hoped that someone else would go first.  Luckily, this ended up being the case. The first person stepped up, hopped on and went for a ride and a half. Right then, I started thinking that my riding one of these things wasn't a very good idea. If I fell, besides everyone thinking it was hysterical, I'd be covered in ostrich poop for the rest of the day. I had to do it though.  There was no backing down.
Before long, it was my turn.  I got up slowly, climbed down the bleachers, and walked over to the step ladder. I thought, as the jockey demonstrated, I would just hop on and hold on tightly to the base of each wing and then ride around and jump off. I climbed up the step ladder where I waited as the jockey caught an ostrich and brought it over. As I got on the ostrich, my first thought was that it was imperative that I stay balanced right in the middle, so that I could easily pull this off. Then the jockey let go. As he did, the ostrich took off like a bat out of hell which caught me off guard.  My body swung back. To try and correct the problem, I lunged forward.  This was a very bad idea as I over-corrected and began to head right over the ostrich's left shoulder. With my heart now racing, I held on as tightly as I could and wrapped my legs around the ostrich as if I was giving it a full body hug. As I held on for dear life, I seized an opportunity to slide off the ostrich while still holding its wings.  I just kind of ran beside it while we both gained control. How I didn't fall off and take the ostrich down with me is beyond me.
That day, I learned that ostriches are very strong.  Thank goodness nobody had a video camera either, as I can only imagine what a spectacle I made. My advice to anyone stopping in Oudtshoorn along the Garden Route to visit an ostrich farm and ride on an ostrich is to hold on tightly to the ostrich's feathers and be prepared for a very abrupt ride of a lifetime.