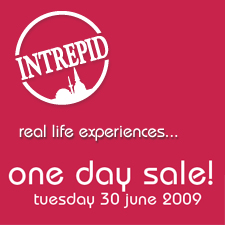 Dust off the passport, because on June 30, 2009, Intrepid Travel is making a travel offer that will be hard to refuse. For just nine hours, ALL of Intrepid's 400 plus trips in over 90 countries around the world will be on sale with savings from 15 – 60% off! Save 60% on select trips departing in July 2009, 30% on trips departing in August 2009, and 15% on all other departures through December 31, 2009. The sale starts at 10:30am EST and ends at 7:30pm EST.
Examples of savings:
Inca Encounter – 9 day Peruvian adventure from Lima to Cuzco that was $1660, now $664
Road To Budapest – 15 day trip from Vienna to Budapest was $1730, now $692
Kenya Adventure – 8 day trip was $1510, now $604
There is limited availability, and trips can be previewed at www.intrepidtravel.com/onedaysale.
Trips include a tour leader, all accommodation and land transportation, and some meals. Intrepid Travel is dedicated to promoting sustainable and responsible travel practices, and utilizes public transport and locally-owned accommodation and restaurants whenever possible. Average group size is ten, which helps maximize interaction with locals, making for a more authentic experience.
Visit www.intrepidtravel.com/onedaysale for details.