While at the 2009 Annual NAFSA Conference and Expo in Los Angeles last week, I had the opportunity to sit down with Randy LeGrant from GeoVisions. We talked about the importance of international education and exchange and how exposure to other countries and cultures is instrumental in helping one truly understand another person's point of view. As I've said many times before, a significant experience living, working, or studying abroad introduces people to new attitudes, behaviors and views while developing skills that can be used to effectively communicate amongst these differences.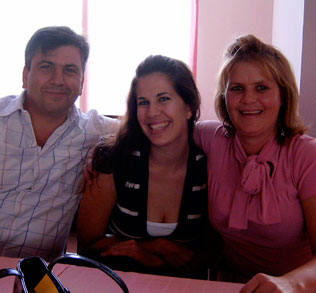 What I always find interesting are the stories I hear about participating host families. Remember that exchanges not only give the visitor an opportunity to learn about the host country, but they also give the host family a chance to explore and understand the visitor's culture and experiences. According to Randy, GeoVisions has host families lined up to participate in GeoVisions' Conversation Corps program where travelers teach English to a host family for 15 hours a week in exchange for room and board. If someone signs up for the Conversation Corps in Turkey, Peru or on the Galapagos Islands, GeoVisions will have them placed with an amazing host family within 5 days. Host families in China are so anxious to get Conversation Corps participants, that they're actually offering bonuses.
For a complete list of destinations currently offered by the Conversation Corps, click here. To request more information from GeoVisions about how you can participate in the Conversation Corps, click here. To fill out an application, click here.