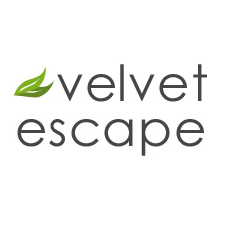 Velvet Escape. To me, these words evoke a feeling of liberating oneself from the usual routine and venturing off to a calmer place. You could be on the harrowing streets of Hong Kong and still feel this sense of peace simply because you are leaping out of the daily grind.
Reading the Velvet Escape Blog transports the reader to unique places and inspires the travel bug. I particularly enjoy reading the "A World of Inspiration" posts. Each of these weekly posts shares an inspiring story of a person who deeply touched the writer's life in some significant and memorable way while traveling. Velvet Escape also shares some well researched tips for travel such as a recent post on bargaining in Southeast Asia. If you're planning an around the world trip, Velvet has a good post on the subject that is worth a look. I know lots of people have lots of advice on trip planning, but Velvet does a great job in conveying these tips to the reader in a clear and concise way. One more category of writing I am particularly fond of from Velvet Escape is the one regarding the solo traveler. For those who can relate to traveling solo or who are thinking about doing so, be sure to check out the posts. They bring back great memories for those who have done so-called solo traveling before and will inspire those about to take the plunge.
After discovering Velvet Escape's Blog, I realized Velvet's main website was a great resource for planning independent itineraries to various locations recently visited by Keith on his around the world adventure. Complete with maps and itinerary, much of the advice reads like a well written travel guide. However, as you read through the blog posts, you get to know the type of person and traveler that Keith is and, as a result, you feel like this well written online guide has been tailored just for you. In other words, if you like the blog, you'll like the suggested trips and itineraries.
The Velvet Escape Blog is mainly written by Keith who is from and currently resides in The Netherlands. He has recently returned from a five month around the world trip, so much of his advice is fresh and current. The site design is clean and simple and is enhanced with beautiful travel photos.