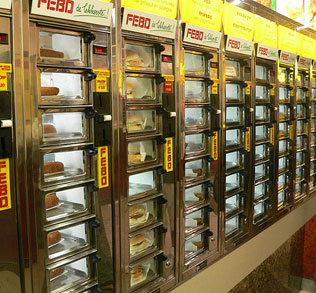 Walking down the streets in Amsterdam, it is impossible to miss FEBO, the Dutch chain of walk up vending machine style fast food "restaurants." My friends and I always refer to FEBO simply as "food in the wall." You will see FEBO shops everywhere in Amsterdam. A FEBO looks like a wall of microwaves with transparent doors and coin slots instead of a keypad, but the food actually sits inside little metal boxes under some kind of heating device. Behind the wall of automatic coin operated food dispensers, the FEBO employees busily prepare the food and upload it into the individual compartments.
The food inside each unit is a typical Dutch snack such as Frikandel (sausage), Kaassouffle (deep fried cheese pastry), Kroket (deep fried gravy croquette) or typical burgers. My first experience at FEBO was late one night when a friend opened the wrong door and then shoved what I think was some kind of beef croquette into my hand. I quickly woofed it down only to later wonder what it was. It looked like some kind of solidified or condensed soup which was deep-fried in batter. I think the best bets are the burgers or the chicken sandwiches and, while I'm happy to have tried a croquette, I stay away from the mysterious fried delights.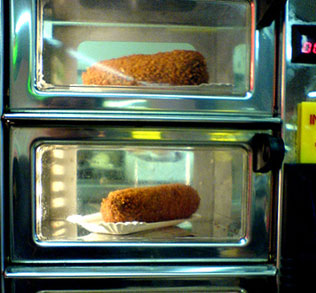 In speaking with a few people, I get the impression that the locals don't actually mind eating the stuff. Keith Jenkins, editor of the Velvet Escape and Amsterdam resident, mentioned that he thought the croquettes with rice or spicy noodles (bami) along with the veal/beef were great. While I generally prefer to hit up the falafel and shawarma stands around town for late night munchies, I still hit the FEBO every so often. If you spend any amount of time in Amsterdam, it's really just a matter of how much time will pass before you end up putting your Euros in the slot and taking out a piece of food. You really have to give FEBO a try when you are in Amsterdam. The food is cheap and they're also open 24 hours a day.