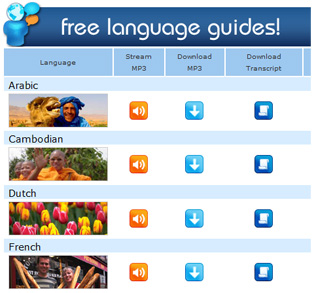 A great way to dig deeper into the feel and culture of a place is to learn the language. Just a few basics will due to start with. Once you get some basics down, more will follow naturally with a bit of practice. With so many languages in the world, even a linguist could not know all of them. Learning just a few basics before you go somewhere where you don't know the language at all not only makes travel more convenient for you, but also opens up the opportunity to learn more about a place by conversing with the locals. Locals often respect your attempts. For example, I speak a little bit of Spanish and recall some great reactions at my attempts to use my rookie skills in Barcelona. I had some great laughs, met some great people and got some good inside tips on things to see and do off the beaten path. I also saved a lot of time as I didn't have to study my guidebook to figure out how to translate certain signs, timetables, etc. No need to worry if you don't know a lick of the language though. Intrepid just made life a bit easier. Just have a listen to any one of Intrepid's many free guides.
These language guides from Intrepid are a great way to pick up a few pointers on a variety of languages. You can stream or download the MP3 or you can download the transcript. I recommend downloading the transcript in addition to storing the MP3 on a portable device so that you have a copy in case you encounter technical difficulties while you're travelling.
What I especially like about these guides is that you can really hear how words are pronounced. When I first traveled to Italy quite a few years ago, I bought a mini Italian-English guide while I was there. I tried to have a conversation with a local, starting off with an introduction and a question on where to catch a particular boat I was looking for. I failed miserably as I pronounced each word horrifically despite the fact there was a written guide on pronunciation. The local Italian woman and I enjoyed a good laugh as we looked at the book together, but I never did make it to the boat in time nor did I take the right path to get there. You can see why I highly rate the ability to listen to the basic vocabulary of a language.
Additionally, I like the way the guides are set up; simple and brief, yet very practical. Think of the guides as a great jumping off point to get involved in the country you plan to visit or the one that you are currently exploring. The first part of the guides are set up like a real conversation between a traveler who has just embarked on his journey and a local. Not only do you get to hear important and useful words and phrases, but you also get a nice suggestion on how to spark up a conversation with a local. This conversational style is beneficial as it helps you remember what you've just listened to as you can almost picture the scene of the conversation. Vocabulary and phrases are reviewed in the latter half of the guides, so you can go back and review what might be most relevant to you. Downloading your language of choice now will ensure you'll have something to do enroute to your destination during those down times; whether you're stuck at the airport or simply in the air and anxious for your arrival.

Click here for a complete list of free language guides from Intrepid Travel.