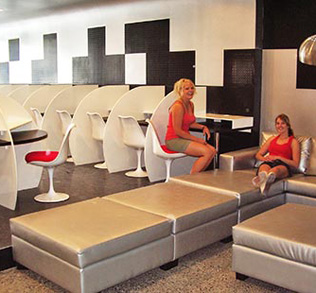 Flashpacking is as popular as ever this summer and for good reason. Traveling with gadgets has become a part of life. Why wouldn't you stay in one of the nice, higher end hostels around the world that allow you to enjoy not only the atmosphere of a hostel, but also some of the comforts more commonly found in hotels. The South Pacific, in particular, has recently seen many new hostels open or old properties refurbished in an effort to attract flashpackers. Whether in the heart of cosmopolitan cities like Wellington, Melbourne or Sydney or in great beach towns like Byron Bay, there are many great options when it comes to flashpacking throughout Australasia.
If you're a flashpacker traveling around Australia, New Zealand or Fiji this summer, here are 10 great flashpacker hostels:
Wellington, New Zealand – Nomads Capital in Wellington is a brand new, top quality flashpacker hostel located in the heart of Wellington. It features everything from great value youth hostel dormitories to private rooms with a private bathroom.
Melbourne, Australia – Nomads Industry is Melbourne's leading flashpacker hostel and it's located in the city's ideal location. It also has a great bar, cafe, free nightly meal, lounge room, rooftop deck, tour facilities, and more. You will be amazed.
Nadi, Fiji – Nomads Skylodge sets the standard for budget accommodation for flashpackers traveling to Fiji. The hostel is situated amongst acres of lush, tropical gardens and all rooms have private bathrooms and air-conditioning. This is the perfect place to stay when in Fiji.
Sydney, Australia – Westend Backpackers is a funky central Sydney flashpacker hostel that is clean and secure with a great vibe and a friendly staff. It's only a 5 minute walk to Sydney's Central Station and a short stroll to all of the major tourist attractions.


Byron Bay, Australia – Nomads Odyssey, which just opened this past March, is Byron Bay's newest flashpacker hostel. This funky flashpacker hostel is centrally located just 3 short blocks from Main Beach and very close to everything including the markets, bars, and transport.
Queenstown, New Zealand – Bumbles Backpackers is an affordable, relaxed and friendly place to stay in Queenstown with spectacular views and a waterfront location. It is only a 5 minute walk into the center of Queenstown where you can grab a world famous "Fergburger."
Airlie Beach, Australia – Beaches Backpackers has won the Whitsundays' Tourism Award for best backpacker accommodation numerous times and was recently voted into the Whitsundays Tourism Hall of Fame. Beaches Backpackers is in the heart of Airlie's central strip with private bathrooms and air conditioned dorm and private rooms.
Auckland, New Zealand – Nomads Fusion flashpackers hostel has some of the best facilities you will ever find in a backpackers hostel such as deluxe private rooms with private bath and TV as well as elegantly appointed shared accommodation with crisp clean linen. The city center location is unbeatable.
Darwin, Australia –The Cavenagh has just undergone a $45million renovation and is one of Darwin's most centrally located flashpacker hostels. Located in the heart of Darwin with easy access to shops, entertainment and most of Darwin's popular attractions.
Cairns, Australia – Esplanade Backpackers hostel is the best located hostel in town as it is directly opposite Cairns Lagoon and is just a short boat ride to the reef. Relax in the garden, join in the nightly backpacker activities or enjoy restaurants and nightclubs that are just steps away.