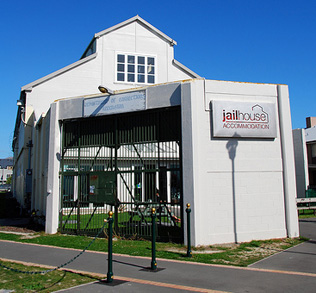 If you're looking for a unique experience or if you've ever wondered what it would be like to spend a night in the slammer, there's the Jailhouse Accommodation. Located just outside of Christchurch, New Zealand, the former Addington Prison is now a very highly rated hostel that offers private rooms with singles, doubles or twin bunks and dorms as well as some larger rooms that can be used by families or groups. The Gothic-revival style architecture and the authentic jail art, done by a former inmate in the jail, add to the atmosphere of this amazing backpacker hostel.
The hostel is within close proximity to the railway station for Tranzalpine and Tranzscenic journeys and offers a free shuttle to the station. It is also located near the Westpac Centre where many concerts are held. In addition to "total" security, the jail features a new, fully-equipped, commercial-style guest kitchen, a coffee bar, Wi-Fi, a cinema room, a pool table and free towels and linen with fully made-up beds. Free parking is also available.
Unlike other prisons, this building, which has had a colorful history, is a captivating, relaxing and fun place to stay.