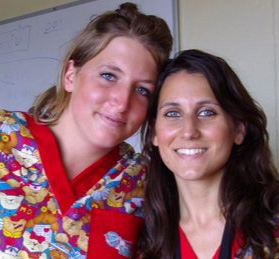 Conversation Partner is a new program from GeoVisions in which participants can volunteer to speak conversational English to the local police department, hotel staff, local business professionals or teachers. Participants do not need to be a certified teacher nor have teaching experience to be a Conversation Partner. Participants simply meet with their group each day, up to 15 hours each week, and converse in English with them in exchange for free room and board. Participants may live with a host family or in a private room in a dorm or even in a hotel. Either way, participants get a free private room and 3 meals each day. Simply put, spend a couple of hours each day, literally, talking and the rest of your time is spent traveling and experiencing the culture of your host country in depth.
Each business or organization is interviewed and carefully screened by in-country staff. Through email and phone calls, participants are able to "meet" the group they will tutor in advance. Participants will speak conversational English to their hosts and must be native English speakers. Conversation Partners need to have earned a high school (secondary school) diploma or certificate and be in good health. Placements are available year round and range in duration from one to three months. Participants must devote up to 15 hours per week, Monday through Friday, for conversation. Lesson plans and group activities are provided by GeoVisions as part of your pre-departure.
Currently, the Conversation Partner program is available in Costa Rica, Ecuador and Vietnam with programs in Thailand and Bali, Indonesia starting soon. To request more information from GeoVisions about how you can participate as a Conversation Partner, click here. To fill out an application, click here.