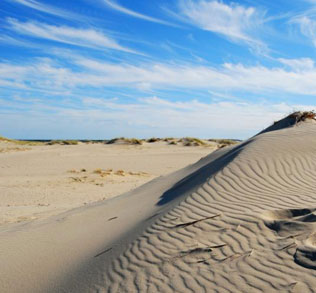 The Curonian Spit is a long, thin and curved sand dune peninsula that divides the Curonian Lagoon from the Baltic Sea. The northern and the biggest part of the Curonian Spit belongs to the Republic of Lithuania and the other part belongs to Kaliningrad region of the Russian Federation. A unique World Heritage Site, the Curonian Spit National Park is a great place to explore. Since prehistoric times, humans attempted to prevent the erosion of the Spit. Completely different from the rest of Lithuania, this real Baltic beach setting is a beautiful and romantic site with a unique landscape. Situated in the municipality of Neringa in Lithuania, Nida is the largest resort town in the Curonian Spit. Each summer, approximately fifty thousand visitors spend their holidays in Nida. The idyllic village of Juodkrantė is the second largest settlement of Neringa. It is located on the coast of the Curonian Lagoon between high, parabolic dunes.
The most typical and impressive elements of the spit's nature are the dunes. Half planted and half drifted, the Dune of Parnidis is a favorite of many. Travelers can enjoy the variation in the spit's landscape with a range of human-provoked "migrating dunes" to the south and a human-planted, green carpet of pines to the north. On the southwest slope of the Dune of Parnidis lies a memorial cross which honors the sculptor Rimantas Daugintis. While celebrating the fifth anniversary of the Restoration of Independence, a sundial was built on the top of the dune.


Another attraction of the Curonian Spit is its interesting cultural heritage. Visits to the Ethnographic Fisherman's Museum, the villas in Nida, Juodkrantė and Smiltynė, the cemetery of Nida and the wooden sculptures at The Hill Of Witches in Juodkrantė are all worthwhile. The Fisherman's Ethnographic Museum is a homestead located on the shore in the southern part of Nida. The homestead includes a yard, greenery, a well, residential and farm buildings as well as a display of typical tools, furniture and household appliances. Close to Nida's Church of Evangelical Lutherans lies Nida's cemetery. On the uniquely shaped wooden tombs called christenings, you'll see such things as carved horse heads and drawings of plants and birds. Since ancient times, the Festival of St. John has been celebrated at the Hill of Witches. Nowadays, walking along the path of the hill, you can see 71 unique sculptures of witches, demons and legendary Neringa characters. The sculptures are made from oak trees and were created by local folk artists.
The more active traveler might choose to ride a bike along the shores. There is a 51 kilometer paved bike track that starts in Nida and runs through Preila, Pervalka and Juodkrantė before ending in Smiltynė. The route is clearly marked and is fairly easy. There are plenty of breathtaking viewpoints to stop at along the way to take in the dune's scenery and wildlife.