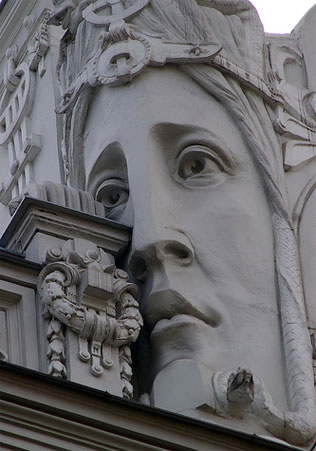 In a very short period of time, Latvia's capital city, Riga, has shaken off a half century of communist rule and has established itself as a cosmopolitan city rich in history, culture and diverse entertainment. Resting on the Daugava River, the city is a living museum of architectural eras. It is particularly famous for its Art Nouveau heritage with many fine examples dotted around town. The best way to take it all in is to take a walk around town with a local guide or simply stumble upon some of the sights yourself.
The Old Town in Riga is very charming with St Peter's Basilica as its centerpiece. You can catch the elevator to the top for fine views of Old Town and its surroundings. The Museum of Occupation is highly recommended as it gives a very thorough and fascinating insight into the hardships suffered by Latvians during its occupation by, first, the Germans and, later, the Soviets. The Latvian Open Air Ethnographical Museum is also a favorite. Be sure to check out the The Doma Cathedral, House of Blackheads, the Swedish Gate, Mentzendorff's House, Riga Castle, The Great Guild and Small Guild and the Cat House. It is worth noting that many museums are closed on Mondays and/or Tuesdays.
For lunch, head to the food halls of the colorful Central Market in Riga and try strange dishes like pigs ears or intestine shashliks. Most of the local cuisine consists of pork, potatoes and sauerkraut served with a generous sprinkling of dill. Traditional meals include blood sausage, pork wrapped in bacon and pigs ears with crackling, pirogi and potato pancakes and Courland sour porridge. Two of the most popular traditional Latvian drinks are rūguspiens (curdled milk with no other additives) and kefīrs (cultured milk). Other popular traditional drinks include kvass (a non-alcoholic drink made from yeast), fresh or fermented birch juice and beer. Beer has a historic role in Latvia and is known to have been made before the Northern Crusades in the thirteenth century. Today, the most popular brands in Latvia are Aldaris, Cēsu, Piebalgas, Tērvetes, Uzavas, Bauskas and Lāčplēsa beers. Another special strong alcoholic beverage made in Latvia is Rīga Black Balsam.