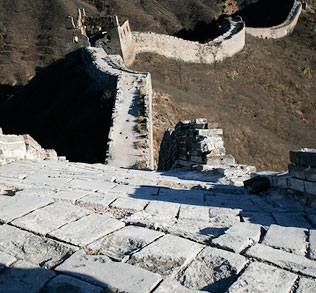 Beijing is a vast and amazing city with so much to see and do. Visitors can track down bargains at the wonderful silk markets, see the hutongs or back lanes of Beijing by rickshaw, walk to Tiananmen Square or find a great restaurant for Peking Duck. Of course, no trip to China is complete without a walk on the Great Wall.  The Great Wall is an incredible piece of engineering which stretches over 6,000 kilometers from the eastern coast of China all the way to the mountain ridges north of Beijing. Originally constructed to protect the Chinese empires from the Mongolian 'barbarians' of the north, the Wall ultimately failed in its purpose but remains a poignant reminder of the power of the Middle Kingdom. My trip to the Great Wall was an absolutely amazing travel experience that I will never forget.
The Gubeikou section of the Great Wall is a great place to start your trek. The trek from here to Jinshanling takes 5-6 hours and there are various guides available to steer you through some of the very steep and narrow paths.  This spectacular walk follows the original, unreconstructed wall with its many steep, crumbling staircases and ruined watchtowers that are overgrown with vegetation. At Jinshanling, the wall zigzags up the steep terrain and straddles peaks like a suspension bridge, so be prepared for some tough going. This is a very demanding trek, but also a very rewarding one. On a clear day, travelers can see mountain range after mountain range unfolding in the distance.
The trek to Simatai is another 5-6 hour trek which is slightly easier than the walk from Gubeikou to Jinshanling, but no less spectacular. The section of the Great Wall known as Mutianyu has been restored and is notable for its numerous guard towers and sweeping views.
Most guides will provide a picnic lunch which you carry along. It's important to ensure you have good shoes with a solid grip. The thing that surprised me the most was just how steep sections of the Wall are. On numerous occasions, I found myself climbing up on my hands and knees.