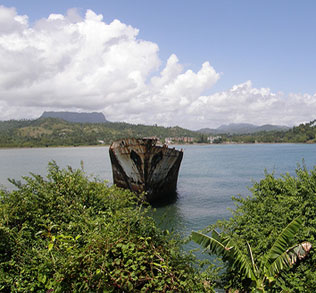 Set on a gorgeous bay and backed by breathtaking mountains in extreme eastern Cuba is Baracoa. Due to its geographic isolation, Baracoa, is still somewhat undiscovered and those who venture to this remote northeastern corner of the island will discover an almost unspoiled colonial village surrounded by secluded beaches and rainforest. Only accessible by sea until the 1960s, travelers can now reach Baracoa by taking a two hour flight from Havana or driving five hours by van from Santiago.  There are also a few nice hotels in Baracoa. The mountains, crystal clear rivers, waterfalls, and beaches all beg to be explored. The settlement maintains a small-town, colonial feel with its magnificent Malecon (seaside walkway), various forts built to withstand pirate attacks, and colorful buildings dating back to the Spanish colonial period.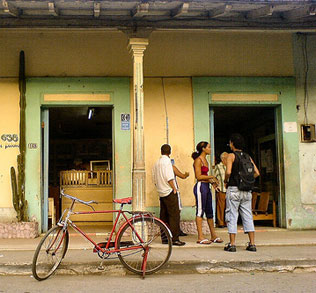 Baracoa's cobblestone streets are lined with one-story buildings with peeling, colorful paint jobs and weathered tile roofs that add to their colonial charm. Visitors can explore the town's forts which are a testament to the attention Baracoa received from the pirates and privateers of the Caribbean. The Catedral de Nuestra Senora de la Asuncion boasts a bust of the indigenous leader Hatuey who was burned at the stake for refusing to accept the Spanish and their Catholicism. To the west of town lie the tranquil beaches of Playa Maguana and Playa Nibujón. Playa Maguana features restaurant and bar service while the Playa Nibujón is more rustic and more frequented by the locals.
There are plenty of activities here from chilling out on the beach to hiking to El Yunke, the famous table top mountain. Those who scuba dive have the opportunity to observe the mysterious underwater world without having anyone in their way. Travelers to Baracoa should try some of the typical dishes such as Cucurucho, a mix of coconut and lots of sugar, honey and other ingredients like orange, guava and pineapple and served wrapped in a palm leaf. Another is Bacán which is made from bananas and wrapped in a banana leaf.