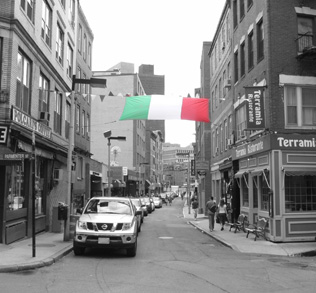 The North End in Boston is the city's oldest residential neighborhood, the center of Italian culture and cuisine, and one of the most colorful, vibrant urban neighborhoods in America. Covering one square mile, Italian-American families have been the dominant residents of this highly populated area since the late 1800s. The best way to explore and experience the North End is on foot. Stroll down the narrow and winding streets while exploring the North End's Colonial-era sites that are sprinkled throughout the neighborhood along with hidden courtyards and passageways, cafes, trattorias and boisterous street life.
Don't miss some of the neighborhood landmarks that pre-date the Revolutionary War and those which played parts in the city's Revolutionary War history including patriot Paul Revere's house, the Old North Church (Christ Church) where lanterns were hung in the belfry signaling his legendary "Midnight Ride," and Copp's Hill Burying Ground. Don't worry about getting lost as the Freedom Trail is a clearly marked red line that runs throughout the city, including the North End neighborhood, leading visitors to many significant historic spots. After a walk around the neighborhood, stop by the Caffe Paradiso for a gelato or a cappuccino and listen to the buzz and hubbub all around you. There are so many quaint restaurants infused with the flavor of its rich Italian history, it's difficult to choose a place to eat. No matter where you choose, however, you will not be disappointed.
Recently, on a nice summer day, I stopped at Bova's Bakery, a popular spot for take-out, and got myself a calzone (they also have great over-sized subs, pizza, good bread and pastries). I then wandered over to the city's new Greenway. The Rose Fitzgerald Kennedy Greenway meanders by the North End and is a wonderful open space with benches and tables where you can enjoy spectacular views of the city's dramatic backdrop.
IMAGE VIA: c21rooney on Flickr