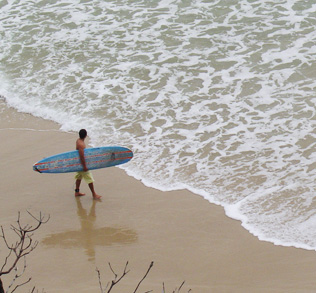 I've been told that "You don't just arrive in Byron Bay. Byron Bay 'happens' to you." For some, there is no place like it on earth and for others it's an over-priced coastal town where it can take hours to find a parking spot. Regardless of popular opinion, it's a spot where there are good times to be had.
If you're a surfer, The Wreck can be a pretty decent surf spot when its pumping. Main Beach tends to draw in backpackers who have just scored themselves a board and who then walk to the beach thinking they can paddle out anywhere. The Pass is the same; super nice break (when there's a swell), but generally too busy on a weekend. If you're an experienced surfer, Tallows/Broken Head is a great surf spot. It can get pretty gnarley and it's definitely not for beginners.
Byron Bay is about being tucked in a wave, roaming a niche of a rainforest, enjoying a tasty dish of food and experiencing that new emotion when your eye catches a pod of dolphins playing under the lighthouse cliff.