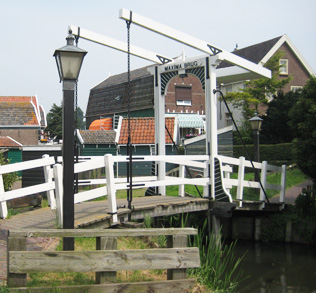 Located to the northeast of Amsterdam, across the typical Dutch countryside, is a small, old fishing village called Marken. Marken has a heritage rich in both history and tradition. Originally an island, Marken is now linked to the mainland by a 2 kilometer dike. The traditional Dutch houses in Marken have their own style of quaint and charming architecture. The houses are painted dark green and are adorned with white trim and red or black tile roofs. Some people from the village still wear traditional Dutch costumes. While I was there, I saw a woman riding her bike while wearing one of the vibrant outfits. The Marken costume is the most colorful of all of the traditional costumes worn within the 12 provinces. It features a red and yellow bolero and a bright blue skirt along with a floral hat and dickey.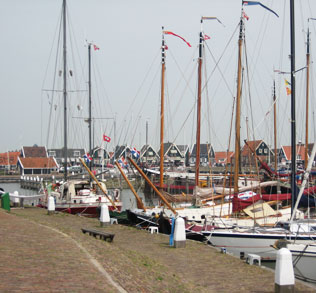 Located in the heart of the Old Village is the Marker Museum where you can see how a Marken fisherman's family lived up until about 1932. One of the six houses of the museum is open for visitors to see what a typical interior was like. Inside, there is a room with an open fire where the smoke leaves through a hole in the roof as well as typical white washed walls full of hanging plates and pictures. The entry fee to the Marker Museum is 2.50 EUR.
Along the harbor's marina, there are a few restaurants that are perfect for lunch, a snack or even a drink near the water. Enjoy traditional Dutch pancakes for lunch or some tasty poffertjes smothered in butter and powdered sugar. No trip to the Netherlands is complete without trying Dutch pancakes. They are large enough to fit the entire plate and are essentially crepes. They are served plain, savory or sweet. I opted for a savory option with thinly sliced ham and cheese. Frequently, they come with a topping such as bananas, honey, powdered sugar or chocolate. Poffertjes are similar to pancakes, but are much smaller, lighter and puffier.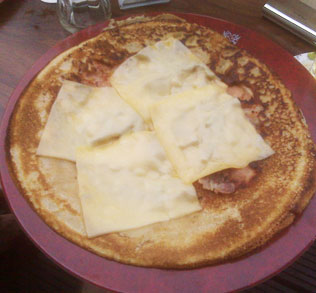 During my visit to Marken I noticed that the entire village is spic and span with nothing out of place. As I walked around the many paths through the village, I saw lots of people out working on their yards and houses.
I highly recommend leaving Amsterdam behind for a few hours to discover Marken and the typical Dutch countryside. A special thank you to Keith, from Velvet Escape, for being such a great host and sharing this spot with us.