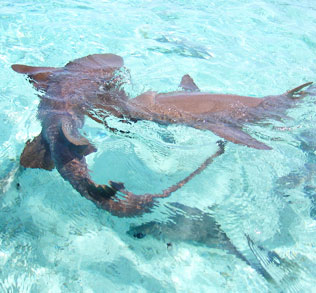 Hol Chan Marine Reserve is located off the southern tip of Ambergris Caye and is Belize's oldest marine reserve. The reserve is centered around a cut through the barrier reef which is about 25 yards wide and can be reached after a 4 mile boat trip southeast of San Pedro that takes around 15 minutes. Hol Chan, Mayan for little channel, covers about three square miles and is divided into four zones. Zone D, known as Shark Ray Alley, is a location where nurse sharks and stingrays congregate. With depths ranging from 8 to 30 feet and excellent visibility, this is a perfect spot for snorkeling or diving.
I took the opportunity to snorkel here while staying in San Pedro a few years ago. I had learned that nurse sharks were generally harmless unless provoked and I was psyched for the whole experience. As soon as our boat arrived in the area, the guide pointed to me and told me I would be the first one to dive in. He added that I had nothing to worry about, but "Definitely, do not put your fingers in front of the sharks' mouths." As I sat up on the edge of the boat, I could see the dark, shadowy figures of the nurse sharks swimming in the shallow, eight feet deep water. With my gear in place and ready to jump, I looked down and noticed a six foot nurse shark glide out from under the boat just below me. I hesitated and looked over to our guide who gave me a hand signal that meant something along the lines of "let's go, let's go," so I jumped in.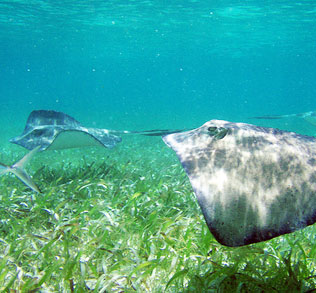 As I got settled in the water and waited for the others to dive in, I noticed that there were herds of nurse sharks and rays. It's clear that they have a great tolerance for snorkelers and divers and seemed to enjoy the human interaction (especially since the guides tend to feed them). As we grouped up and swam around some of the sharks and rays, they would also swim in circles around us. They even playfully rubbed up against people like a cat or a dog would. As a ray with a wing span of about three feet swam near us, our guide invited some to reach out and stroke its wings. Personally, I thought it was best to keep my distance and not to touch them.
A visit to Hol Chan Marine Reserve and Shark Ray Alley during your stay on Ambergris Caye is a must. Shark Ray Alley is a truly unforgettable adventure for travelers in Belize.