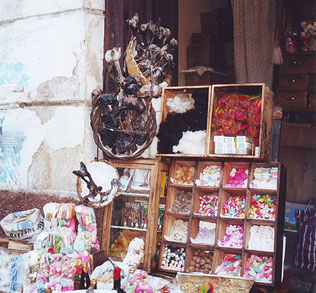 The markets in La Paz, Bolivia, like many places, are an essential part of the culture and a vital part of the city. In La Paz, there are a number of markets that stretch across the city where one can buy just about anything. There are several food markets, a flower market, an artisans' market and even a black market where you can buy bootlegs and Polo shirts for the equivelent of 2USD. However, the most interesting market and one of the more unique sights in La Paz is the Witches' Market.
Also known as El Mercado de las Brujas, in Spanish, the Witches' Market has become a popular tourist attraction that people from all over the world come to experience. Witches wearing dresses and dark hats sell a bizarre assortment of goods including potions, amulets, candy, silver jewelery, owl feathers, dried snakes, dried turtles, dried frogs and many other unusual items. The most notorious product for sale in the Witches' Market is dried llama fetus which is used for Aymara rituals and which many visitors find to be very disturbing.
The Witches' Market is located on Calle Jiminez and Linares between Sagarnaga and Santa Cruz.
IMAGE VIA: Miss Mass on Flickr