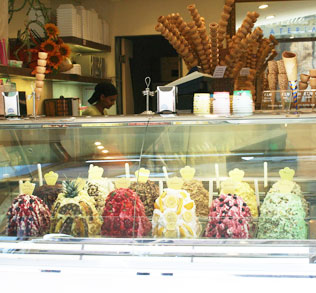 When it comes to food, Italians are primarily known throughout the world for pizza, pasta, and tomato sauce. However, Italy's national diet has traditionally differed greatly by region. From around A.D. 500 to the late 1800s, Italy was made up of separate republics, each of which had different culinary customs. These varying cooking practices have been passed down from generation to generation and have contributed to the diversity of Italian cuisine. In the north, staple dishes were polenta and rice while pasta was popular throughout the south. In recent decades, however, pasta and pizza have became more and more popular in northern Italy. However, pasta is more likely to be served with a white cheese sauce in the north as opposed to the tomato-based sauce in the south. Italy has many major wine regions, from Valle d'Aosta on the French border to Sicily and Sardinia in the south. Wines are named after grape varieties or after their village or area of origin. Our personal rule while traveling throughout Italy is to always go with the house wine.
Here are some fabulous Italian food experiences:
– Sample the local pesto in Cinque Terre.
– Try some of the amazing cheeses like mozzarella, caciotta romana or pecorino.
– Enjoy one of the waterfront restaurants in Sorrento.
– Try the original pizza in Naples.
– Sample the local limoncello on the Amalfi Coast.
Some more must haves are:
Arancini – Typically a southern Italian specialty, arancini are deep fried balls of rice with tomato sauce, eggs, and cheese.
Risotto – Rice that has been sauteed and cooked with stock. The result is a very rich and hearty dish. Meat, seafood, vegetables or cheeses are almost always added depending on the recipe and the locale. Many restaurants, families, towns, and regions have a signature risotto.
Polenta – Yellow corn meal that has been cooked with stock. It can be served creamy, cut into shapes after allowed to set, fried or roasted.
Gelato – The Italian version of ice cream. Non-fruit flavors are usually made only with milk while the fruit flavors are non-dairy. When I'm in Italy, I usually have at least one gelato every day. There are many flavors like coffee, chocolate and tiramisu, but my favorite is the pistachio.
Tiramisu – An Italian cake made from coffee, mascarpone and cookies with cocoa powder on top.
Our Italy hotels page presents hotels in Italy ranked by popularity – read verified traveler reviews and search multiple sites for the best deals on the best hotels in Italy.
IMAGE VIA:

laura

-b on
Flickr