Bordering the Pacific Ocean and the Caribbean Sea, Panama's coastline includes a plethora of lagoons and countless islands. Stretched out along the Caribbean coast is the archipelago of San Blas, a cluster of well over 300 islands of remarkable beauty. Forty-nine of the islands are inhabited by the Kuna Indians. While only a fifteen minute plane ride from Panama City, a trip to the San Blas Islands will transport you twenty centuries into the past where travelers feel as if they're in another world.
Fiercely independent, the Kuna Indians maintain their own language, customs and culture with their distinctive dress, music and legends. Their communities include modern hospitals, basketball fields, rustic restaurants, shops, an airstrip, a post office and radio communication. The men still fish from canoes and there's a good chance that you'll see local men climb a palm tree for coconuts as they have done for centuries. Kuna women make molas which are rainbow colored fabrics with fish, birds, jungle animals and geometric shapes that are very impressive. Famous for their arts and crafts, the bright tropical scenery is reflected in the colorful molas which are popular souvenirs for visitors.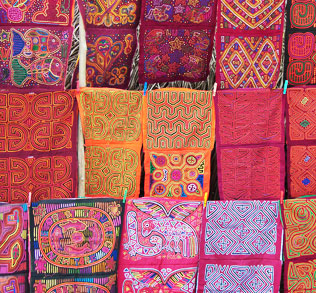 After visiting a Kuna Village, relax under one of the many picture perfect palm trees that sit amongst the white sand beaches and crystal clear water. With a breathtaking variety of colors and shapes, the coral reefs are like gardens and the snorkeling is simply amazing. Sailing around these coral islands is also superb. Diving conditions are best between April and June. Accommodations are generally in simple and rustic cabins with palm thatched roofs and walls. Some even have hammocks instead of beds.