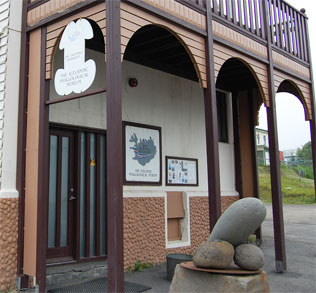 The Icelandic Phallological Museum in Husavik, Iceland is a museum devoted to phallology and boasts a collection of hundreds of penises and penile parts belonging to every land and sea mammal that can be found in Iceland. Currently, the museum houses 272 specimens from 92 species of animals displayed like hunting trophies, embalmed in formaldehyde or dried in display cases.
Visitors to the museum will encounter specimens of all shapes and sizes. Some are big like that of the Humpback whale and others small like that of a common house mouse. It houses specimens belonging to a reindeer, a fox, a mink, a dog, a cat, a boar, a rat, a goat, 23 different kinds of whales (including sperm whales), 1 specimen taken from a rogue polar bear, 18 specimens belonging to seven different kinds of seal and a walrus; just to name a few. The museum even has one specimen from a man which is actually pending confirmation of the letter of donation.
Not for the squeamish, the museum is located at Hedinsbraut 3a, 640 Husavik and the hours of operation vary by season.
Looking for things to do in Iceland? Check out our top picks and pages of things to do in Iceland!
IMAGE VIA: boonerator on flickr