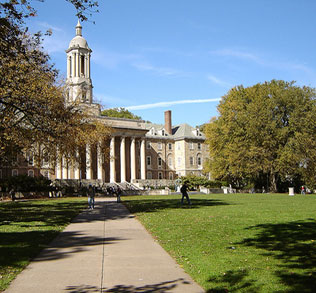 When I think of the phrase "college town," I think of grassy common areas, courtyards and grand buildings with large white columns in front. Ultimately, one's image of a college town is influenced by their own college experience. For example, someone who studied in Tempe, Arizona has no clue of the feeling you get when walking through a campus in New England during the fall. Having studied in Boston myself, where higher education makes up a large part of the economy, I really don't think of Boston as a college town. Same with New York City. The character of the cities are too rich and varied. In my opinion, the determining characteristic of a college town is that one or more colleges or universities have a prevailing impact on all aspects of life within the community. As someone who has done business on campuses all across the country, here are my Top 10 College Towns in America:
1. Gainesville, Florida
2. Chapel Hill, North Carolina
3. Berkeley, California
4. Madison, Wisconsin
5. Athens, Georgia
6. Charlottesville, Virginia
7. State College, Pennsylvania
8. Tempe, Arizona
9. Boulder, Colorado
10. Amherst, Massachusetts
Of course, you may have own favorite(s) and we'd love to hear what they are and why.  Please leave your comments!
IMAGE VIA: anne.oeldorfhirsch