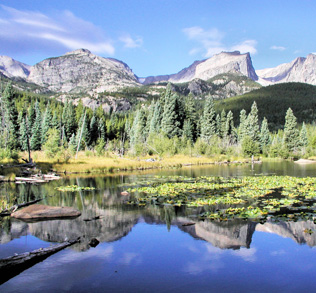 1. Hike a Fourteener – The Rocky Mountains are flush with good hiking. Several of the highest and best peaks are known as Fourteeners as their heights exceed the benchmark of fourteen thousand feet. Longs Peak, Mount Elbert and Pikes Peak are just a few in Colorado. Make sure you research the hike before you go. Many of them are intense!
2. Take a Gondola or a Ski Lift – Even if you aren't the best hiker, you can still enjoy the awesome beauty of the heights. Many ski resorts offer year round lifts to the top of the mountains. Oftentimes, North American ski resorts are as lovely in the summer as they are delightful in the winter. For example, there is the gondola ride up Snowbird, not far from Salt Lake City, and the breathtaking trips up Vail and Beaver Creek in Colorado. Many ski resorts offer at least one or two motorized ways up the mountains in the summertime.
3. Go Mountain Climbing – There are amazing climbing spots throughout the world. However, the Rocky Mountains have some of the best. Check out Maple Canyon in Utah, Garden of the Gods in Colorado Springs and the expert only spot of Black Canyon in Gunnison State Park.

4. Soak in the Hot Springs – The health conscious traveler's mecca of Glenwood Springs is nestled up on I-70, here in Colorado. I currently live in Colorado, but having spent a good part of my life in the Idaho Rockies also, I remember the very comfortable Lava Hot Springs in Idaho. I have spent many languid hours soaking up the hot mineral water that leaves you feeling refreshed and clean. After bathing your aching muscles and breathing the sultry air from the pools, you exit with your body feeling relaxed and healthy. One must always always bathe before going in. However, after I'm done soaking, I always like to wait to wash off as I like the feel of that natural water on my skin. I feel much the opposite about conventional pool water.
5. Go Fly Fishing – Not all fishing is created equal and fly fishing takes more skill and expertise than perhaps any other kind. Spending a warm day standing in cool water angling for trout is a wonderful pastime. Spots such as Kootenay in British Columbia, Eagle River here in Colorado and the North Platte in Wyoming are just a few places with amazing fishing spots.
6. View Wildlife – Have you ever seen a moose, bear, beaver or elk? Once, I stood not more than 20 feet from a moose in Yellowstone National Park. The bull moose was so large that I fancied I could walk underneath him just by dipping my head a little. On the same trip, we saw two bears feeding on cutthroat trout in a beautiful creek. Recently, at nearby Rocky Mountain National Park, my girlfriend caught many minutes on video of four elk bucks prancing and playing with each other; just amazing. Few places in the world have the kind of wildlife viewing opportunities that are available in the Rockies.
7. Go Mountain Biking – Test your balance and skill over rocks and mountain trails. In some locations, you can skip the uphill challenge and take your bike all the way up the mountain on a gondola or ski lift , then simply ride DOWN. Some of the best mountain biking spots in North America can be found in or near the Rocky Mountains. Check out spots like Moab, UT, Crested Butte, CO and Okanagan, BC.

8. Take a Road Trip – America has had a love affair with the motor vehicle like, perhaps, no other continent has. There are great distances to be traveled here. How many North Americans don't know what it is like to pile into a car for a long road trip? The Rocky Mountains have many amazing road trips to offer. For example, take the beautiful and daunting Trail Ridge Road. It is only open from Memorial Day to Labor Day as its elevation takes you to nearly 13,000 feet, well above the tree-line, where the wind blows so hard it threatens to take you off of your feet. I also have to note here the Alaskan Highway which my brother and I dream about taking on motorcycles some summer. That's a trip that will take weeks and will take us through some of the most wild country on the planet.
9. Embrace Native American Culture – The splendor of Native American culture is diverse and rich. There are many places where one can become immersed in Native Culture for a day or so. Take part in a Powwow such as the Crow Agency's Native Days thrown every year in Montana by the Crow Nation or the Gallup Inter-Tribal Indian ceremony in New Mexico.
10. Go Skiing and Snowboarding – European skiers speak of places such as Chamonix and Zermatt. I will not argue the beauty and tremendous capacity for winter sports that European ski spots offer. However, spots such as Deer Valley, Vail and Telluride meet and exceed their European counterparts in many ways. Not only are there far more resorts than Europe has to offer, but it's not unusual for many of these spots to lay down over 360 inches of snow in a season. Also, the dryness of the Rocky Mountains makes for a powder so fine and perfect that wind can pick it up and send it in long sheets off the mountain which are visible for miles. Is there anywhere that offers better skiing and boarding than the Rockies?
IMAGE VIA:

elderhiker

on
Flickr