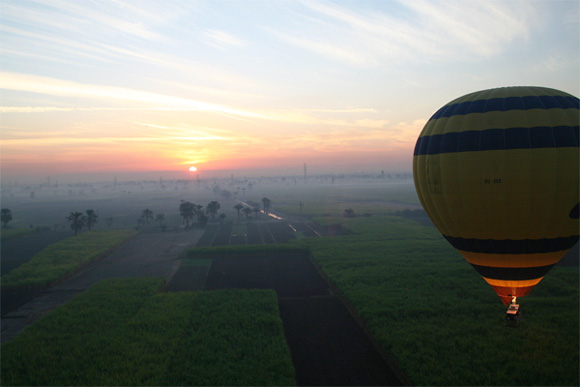 Taking a ride in a hot air balloon is one of the most unique and exhilarating experiences you might ever have. From the roar of the burners as you rise into the sky to the silence of floating and drifting with the winds, it is truly an experience that doesn't compare to anything else. The sensation of flying over some truly amazing places throughout the world at sunrise is a unique, inspiring and "uplifting" experience. Here are 5 amazing places where you can experience the sensation of floating above the earth with a breathtaking view of the world below at sunrise:

Luxor, Egypt – A hot air balloon flight over the Nile River's west bank offers unbeatable views of Luxor's famous temples. Don't let the early morning departure time of between 3am and 5am,  depending on the sunrise, deter you from experiencing the peaceful glow of dawn on a sunrise flight over Egypt's ancient monuments. More information on Hot Air Balloon Flights Over Luxor's West Bank and Nile River.
Alice Springs, Australia – What better way is there to witness the Australian outback than to float above it in a hot air balloon. Drift over the rugged landscape and spot wildlife while taking in the flashes of green and ruby pink that announce wheeling budgerigars and galahs. Rise before dawn when the outback sky is alight with the brightest stars and watch your balloon inflate in the early rays of daybreak before heading aloft. More information on Sunrise Ballooning in Alice Springs.

Quebec City, Canada – Enjoy a bird's eye view of this charming and beautiful region in the skies above Quebec City and the surrounding areas. Witness the city awaken at dawn and experience the magnificent views of Quebec from a whole new perspective. Marvel over the unique, breathtaking sights of Quebec City, the St. Lawrence River, the Ile d'Orleans and the Laurentian Mountains. More information on Quebec City Hot Air Balloon Flights.
Dubai, United Arab Emirates – Rising early to see the desert is something you'll never forget. Getting up early for a sunrise journey guarantees breathtaking views and incredible desertscapes. Take in unrivaled views as you enjoy a magic carpet ride over giant red sands, emerald green oases, gazelles and wandering camels. Experience the cool morning breeze as you ascend higher and higher while witnessing the sun's first rays flood the desert with an abundance of color. More information on Dubai Hot Air Balloon Flights.
Las Vegas, Nevada – Imagine yourself gently floating over the hustle and bustle of the Strip at sunrise. Escape the glitz and the glamor and experience the feeling of peace and tranquility as you take in unobstructed, 360 degree views of Las Vegas and the gorgeous surrounding landscape. Enjoy the scenic views of the renowned Las Vegas Strip to the east and the majestic Red Rock Mountains and Red Rock Canyon to the west. More information on Las Vegas Sunrise Hot Air Balloon Rides.