Travel Tweet: @brillianttips any tips on eating out in Bari, Italy?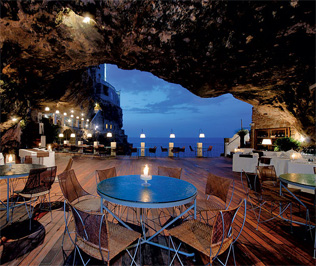 The city of Bari, Italy has an extensive range of restaurants and food is one of the primary reasons people visit in the first place. Famous for its quality food, the cuisine relies heavily on the fruits of the sea. Mussels, oysters, clams, cuttlefish, prawns, lobster, anchovies and sole are often baked, fried, boiled or prepared in soup. Little ear-shaped pasta known as orecchiette, accompanied by cime di rapa or turnips, is often affiliated with Pugliese cuisine. The burrata, which is mozzarella cheese with a cream center, is definitely a "must try." Here are a few restaurants worth leaving your luxury hotel in Bari to consider trying:

Vini e Cucina da Paglionico has a wonderful atmosphere and very friendly service at relatively cheap prices. The historical taproom has great seafood and the traditional baked dish of potatoes, rice and mussels is a specialty of the house.
La Cecchina has lots of style and amazing food at prices that are very affordable. They offer excellent, fruity white wines, great pretzel biscuits and an antipasto platter that offers a few interesting twists on typical Pugliese cuisine.
Terranima rotates 26 different menus, changing the menu about twice a month based on the season. They offer several different pasta dishes and one of the house specialties is the orecchiette with broccoli and olive oil.
Fuori Luogo is a hip, colorful and tastefully decorated restaurant with a chic wait staff for those looking to dress up for a night on the town.

Grotta Palazzese is the ultimate dining experience in Bari. Built into the rock in the grotto, the Grotta Palazzese offers stunning views of the sea. The great thing about this unusual restaurant is that they allow you to try different dishes typical of the area.
The Best Deals on the Most Popular Hotels in Bari, Italy at hotels.brillianttrips.com. Read traveler hotel reviews, search multiple sites and more…