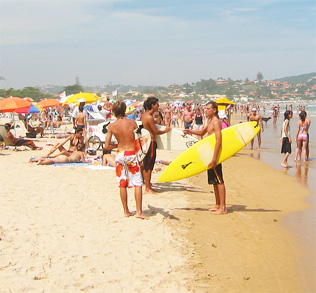 Once a quiet, picturesque fishing village, Brazil's Armacao dos Buzios, or Buzios for short, is now a beautiful beach destination known for its thriving, electric night life. A leisurely two hour trip north of Rio de Janeiro, Buzios is a peninsula surrounded by small islands with over twenty beautiful beaches. The beaches of Buzios are all fairly isolated from one another and differing characteristics make each beach unique. Now matter what type of beach you prefer, large or small, waves or no waves, it won't be difficult to find one that you like in Buzios. The west coast beaches offer calm, clear waters while the east coast faces the open sea. The east coast, therefore, is where you'll find the surfers and water sports enthusiasts. One of the best ways to scope out the beaches and get an idea of which ones you want to check out is to take a boat tour.
The busiest and most popular of the beaches are Joao Fernandes and Joao Fernandinho which are packed with beautiful people showing off their tans. The Ferradura, or "Horseshoe" beach, is close to town and is an ideal place to go snorkeling. Manguinhos beach has calm, soothing waves which makes it a great place to learn how to windsurf. The experienced windsurfers should head to the next beach over, Geriba Beach, which is full of surfers, boogie-boarders and windsurfers. Most people stay on the beach until after sunset which can mean after 8 pm in the summer months.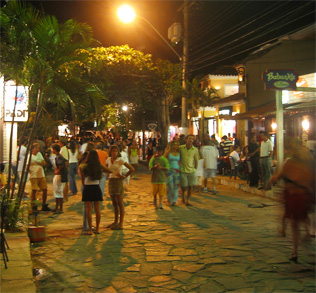 Nightlife is huge in Buzios. If you're looking for an amazing night out, you'll want to head to Rua das Pedras. Rua das Pedras winds through the center of town and features restaurants, bars and nightclubs as far as the eye can see. Many bars and restaurants are pretty much empty until about 10 pm and nightclubs typically open after midnight and go all night until the sun rises. Buzios boasts many hip and trendy restaurants which can be very pricey. A great dinner option for travelers on a budget is one of the many pay-by-the-kilo restaurants like Boom located at Rua Turibio de Farias 110.
For information on hotels in Buzios, click here, or for information regarding hostels in Buzios, click here.
IMAGES VIA:

supercake

on
flickr