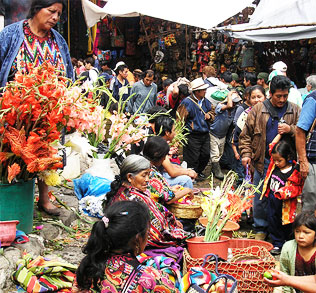 Chichicastenango (Chi Chi) is a small Mayan town in the western highlands of Guatemala which is famous for its traditional market. Market days are Thursday and Sunday and, each week, the colorful scene attracts both locals and international tourists. One of the most striking sights in Chichicastenango is the myriad of colors present in the multiple styles of traditional native dress of the local woman from all over Guatemala. Those knowledgeable about the textiles can tell where the wearers are from as many of the costumes are village or group specific.
Vendors begin setting up their booths in the main plaza and adjacent streets the night before and continue in the early daylight hours. Firecrackers start going off early in the morning and continue sporadically throughout the day adding to the scent of the incense which is burned in abundance on the steps of the church of Santo Tomás next to the market. The 400 year old church of Santo Tomás has 18 stairs that lead up to the church's main entrance. Each step represents one month of the Mayan calendar year. It is very important to be respectful of the local people and their customs. Tourists visiting the church should enter through the side doors rather than the front entrance.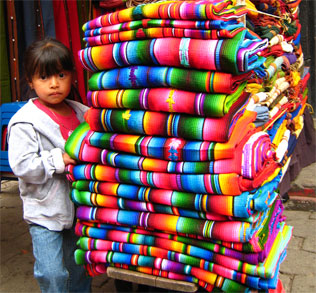 The market is highly organized with vendors of specific goods occupying traditional sites in the market area. Among the items sold are textiles, particularly women's blouses, hand carved masks, handicrafts, food, flowers, medicinal plants, pigs and chickens, machetes, and much more. There are plenty of buses and shuttles from Guatemala City, Antigua and Panajachel that travel to Chichicastenango, particularly on market days when there is a steady flow of direct buses.