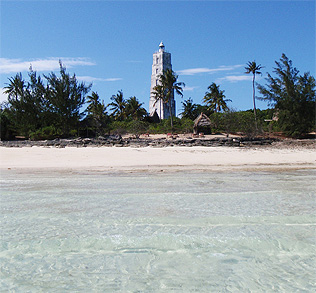 Chumbe Island Coral Park is a small, privately owned island in the Indian Ocean located between Zanzibar and the Tanzanian coast. Situated 8 kilometers south-west of Zanzibar, the island can be reached in 45 minutes by boat from the Mbweni Beach departure point. The island is run by the private nonprofit organization Chumbe Island Coral Park, Ltd. (CHICOP) which conducts marine research and education programs on the island. Income from visitors is re-invested into park management and the education programs that operate in the park.
The island has a small mosque, a lighthouse and an ecolodge with only seven bungalows (limiting guests to just 14 at a time). The accommodation on Chumbe Island is truly something special as it links eco-interests and tourism with very compelling architecture using nothing but natural materials. Each bungalow is ecologically self-sustaining with zero impact on the environment with each featuring solar-powered lighting, solar-heated hot water showers fed from a rainwater catch system, and compost toilets. Designed to provide both privacy and a sense of living in the open, all 7 bungalows overlook the sea and and sit within a one minute walk of the ocean.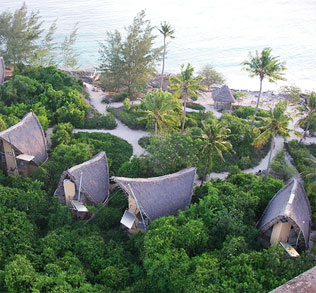 The reef sanctuary includes over 200 different types of coral, over 400 species of fish and lots of dolphins and turtles. Snorkeling equipment is available on the island and the reef can only be observed under the guidance of a park ranger. The environmental education programs at the park are offered to local school children from the island of Zanzibar. Taken around the snorkeling and forest trails by the park rangers, the children (particularly the girls as something of this nature is not normally encouraged in the predominantly Muslim society of Zanzibar) get great enjoyment from this learning experience.