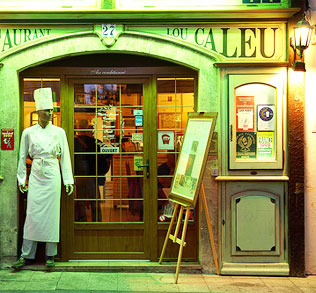 It is argued that France has a more varied and developed cuisine than any other country. Eating out in France is an adventure and a delight, but might be different than what you would expect. French cuisine has been adapted around the world, so don't expect exactly the same type of French fare that you would find at home (assuming your home is not in France). French chefs take great care in the presentation of their dishes and every plate is beautifully presented. The simple, delicious cooking for which France is famous can be found in the old-fashioned bistros and restaurants. There are two distinct styles of eating in France: haute cuisine and family style cooking. Both styles are just delicious.
Lunch in France is generally served between 12 and 2 pm, so it can be difficult to find restaurants open in the later part of the afternoon. Dinner is typically served between 7 and 9 pm and set menus, such as the "menu du jour", are usually the best value. Restaurants tend to have cheaper set menus, "formule", at midday. In France, there is a three stage pricing system at most restaurants where eating at the bar is the cheapest, followed by sitting down inside, while the most expensive is eating at tables outside on the sidewalk. The sidewalk seeting is even more expensive if you're on the Champs-Elysées or if there is a view of a famous monument. An average restaurant meal in France costs between 10 and 25 EUR. A cover charge is not usually added to bills, but a service charge might be added so be sure to check the small print on the menu. It is customary to tip approximately 10%.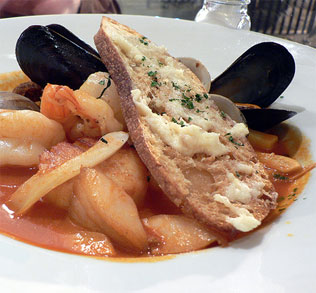 Some popular traditional dishes include: Foie gras (duck liver pâté), Magret de canard (duck breast), entrecôte (rib steak) served with béarnaise (tarragon-flavoured sauce with egg base) and gigot de présalé (leg of lamb roasted or broiled) served with pommes dauphines (deep-fried mashed potato puffs). Modern French cuisine served in stylish bistros is becoming more popular. Steak-frites (steak with chips/fries) is typical fast food in France, along with crêpes (pancakes with fillings), pizzas and baguette sandwiches with various fillings which can be found on streets everywhere. It is also worth sampling the escargot (snails), frogs' legs and beef tartare.
Sampling local food and drink in the region of origin is highly recommended. Such foods include Boeuf Bourguignon and Coq Au Vin (beef or chicken cooked in red wine) in Burgundy, Bouillabaisse (fish soup) on the French Riviera or Moules and frites (Mussels and fried potatoes) in the north of France.