Home » Just for Fun, Lifestyle + Culture
Have You Ever Been to Fucking, Austria?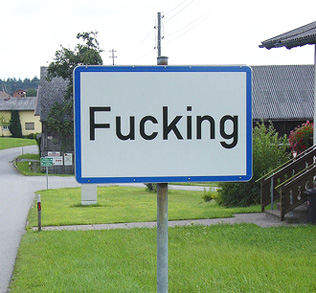 Actually pronounced "fooking," Fucking, Austria is a very real place. A 32 house village located near Salzburg on the German border, the little village of Fucking is named after the man named Focko who founded the village in the 6th century. The "ing" is an old Germanic suffix indicating the people of the root word to which it is attached. So, Fucking translates to the place of Focko's people. The village has a population of 107.
If you go to Fucking, Austria, don't even think about stealing the sign. The locals are very tired and sensitive to the constant stealing of signs for their oddly named village. While some visitors find it hilarious, the residents of Fucking fail to see the funny side. A local police officer is on record stating, "We will not stand for the Fucking signs being removed…Fucking is simply Fucking to us." In an effort to curb the problem, local officials have installed cameras to catch thieves in the act.