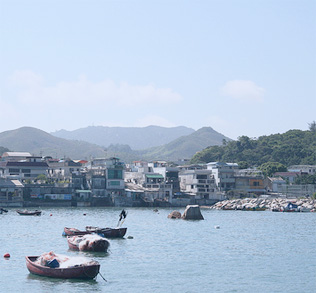 Hong Kong is comprised of the Kowloon peninsula, the New Territories and 236 different islands. The third largest of the islands, Lamma Island, provides a nice alternative to the craziness of the city and offers a peaceful and tranquil setting. A sharp contrast to the hustle and bustle of Hong Kong Island and Kowloon, buildings higher than three stories are prohibited and with the exception of emergency and construction vehicles, there are no automobiles allowed. The only means of transport is by bicycle or by foot. Lamma Island is popular with the younger crowd and has become a haven for artists and musicians which gives Lamma a bit of a reputation as being a hippy island.
Yung Shue Wan, located on the northern part of Lamma Island, is the most populated area and has many seafood restaurants, pubs and shops that sell handicrafts, environmentally friendly products and local art work. Sok Kwu Wan, located on the eastern part of the island, consists mainly of seafood restaurants and is home to the largest fish farming site in Hong Kong. There is a cool trail between Sok Kwu Wan and Yung Shue Wan that offers brilliant views of the island's coastline as well as a few caves near Sok Kwu Wan marked as "kamikaze grottos." The caves were dug out by the Japanese during the war and, according to legend, were used to hide their kamikaze boats and to store munitions. Walking the trail takes about an hour and is definitely worth it.
There is regular ferry service to Yung Shue Wan and Sok Kwu Wan from Hong Kong Island and the ferry takes about 25 minutes. Tours to Lamma Island, from Hong Kong, are also available.
IMAGE VIA: jaaron on flickr