Oktoberfest doesn't begin in October – that's when it ends. While bars in the U.S. are just beginning to celebrate autumn with their Samuel Adam's and Harpoon's seasonal, Oktoberfest inspired beers, the official celebration in Munich, Germany has already come to a close (running from mid-September to the first Sunday of October).
Before coming to Oktoberfest, I had an idyllic image of large Bavarian beers and festive drinking halls as far as the eye could see. However, the moment I approached the outer gate, it felt more like stepping into Disneyland. In the distance the neon lights from two stadium-sized rollercoasters were blinking while the sound from a nearby carousel and something called 'The Shocker' inclined me to question whether I was trapped inside a giant pinball machine. That morning, I had arrived thirsty for a litre of Hofbräu, but now pictured myself leaving with a stuffed toy giraffe instead of a German beer stein.
At first, I disapprovingly thought, "Oh god, another 'traditional event' gone to tourism," but upon entering my first beer tent, I found the Oktoberfest I was looking for. Inside the tent, the majority of women were wearing beautiful dirndls (traditional Bavarian dresses), waitresses were serving brezelns (pretzels) and würstel (sausages), and of course everyone was drinking a gigantic 'mass' of beer (the famous 1-litre beer steins). Imagine a German folk band and 5000 people belting out Queen's "We are the Champions," pausing only momentarily to have a group prosit (German for cheers) with everyone in the room before launching into the next tune.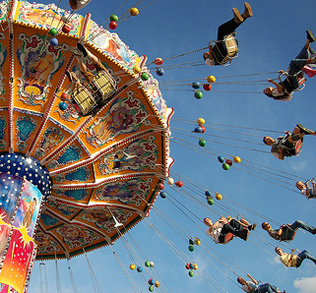 Oktoberfest is free to the public. Each mass of beer runs 8 – 9€ (about $13 US) which I think is pretty reasonable considering one mass is roughly equivalent to three 12 oz. bottled beers. Also keep in mind that the beer's alcohol content is relatively high (5.3%-6.6%) and you don't need to leave a tip.
The biggest challenge at Oktoberfest is finding a table inside one of the 14 beer tents. I was warned by my German friend that it would be impossible to find a table unless we either arrived at 8am or reserved a table years in advance! Surely these things would have been helpful, from my experience though, as long as your group isn't too large (2-4 people is ideal) then, with some patience, you can squeeze your way to a table. Some good advice for planning the trip: weekdays are much less crowded than the weekend, yet still crowded enough to have a loud and rowdy time.
The rule is that you have to be seated to buy beer, but if you can't get inside a tent, then you can always get served at one of the many picnic benches outside. The only problem with spending too much time outside is that you'll leave feeling like you went to "Germany-land" at Disney's Epcot Center where the Oktoberfest-inspired celebration does in fact begin the first week of October and runs throughout the entire month.