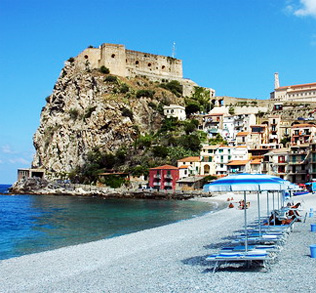 A region of southern Italy, Calabria is considered by some to be the Caribbean of Europe with its unadulterated beaches, brilliant landscape, and homespun charm. Historically one of the poorest regions in Italy, Calabria is quite undeveloped and not well-known by tourists. With the hidden treasures of Praia a Mare and Dino Island along with hillside towns and ancient Greek temples dotting the countryside, Calabria just may be Italy's best kept secret.
With only a few hotels Praia a Mare is an undiscovered gem and the perfect place for travelers looking to get off the beaten track. This village of Praia stands in front of Dino Island and is surrounded by the lovely Policastro gulf. The water surrounding Dino Island is that amazing crystal blue color that many travelers dream of. Dino Island is home to three cool caves that are ripe for exploration: the Waterfalls cave, the Lion Cave and the largest and most popular Blu Grotto where the water within the cave appears to be lit from under the water.
With lots of adventure travel activities, Praia offers the best of both worlds. Visitors can sit back and relax on the beach and enjoy the soft breeze or try something extreme. Cliff jumping is the highlight for many travelers who enjoy a good adrenaline rush. Try jumping off Arcomagno Rock, a 22 meter natural bridge over a hidden crystal bay, or, if you're not so brave, try one of the lower jumps that are found along the coast of Dino Island. There is also plenty for scuba divers to explore with stunning coral gardens and ancient relics lying not far from Dino Island.
Compare the best hotel deals in Praia A Mare, Calabria, Italy