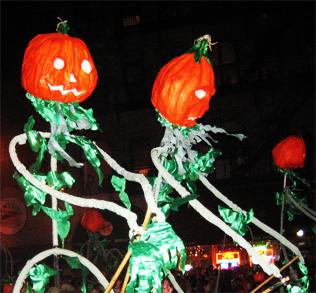 My first introduction to the Village Halloween Parade was listening to Lou Reed's song "Halloween Parade" where he sings about a downtown fairy singing out Proud Mary while cruising Christopher Street. He sings on about Greta Garbo, Alfred Hitchcock and some black Jamaican stud who almost fell into his mug, concluding that "This Halloween there's something to be sure of… the Halloween Parade." Years later, I found myself closing up shop early to host an office party overlooking Sixth Avenue and Bleecker Street that turned out to be quite an experience as masqueraders dressed as goblins, witches, pieces of toast and abstract art showed up to join the chaos.
Each Halloween, New York's Greenwich Village is transformed into the nation's largest costume party for the largest and most outrageous Halloween Parade in the country. Stretching more than a mile, the annual cultural event draws over 50,000 costumed participants, dancers and artists, a number of floats featuring live bands and other musical and performing acts, and 2 million spectators. Marching straight up Sixth Avenue, the parade starts with enormous puppets and a themed performance leading the way. The waiting throngs of costumed participants then join in behind the puppets. Throughout the evening, more puppets, floats, bands and other performers are introduced into the stream. The entire process of entering the parade usually takes 2 – 3 hours, so the staging area becomes its own party.
The magic of the Village Halloween Parade is that, for this one night, New York's most enthusiastic and craziest collection of costumed misfits and reveling rogues embrace the diversity that makes New York City so amazing.
The Washington Square Hotel is one of our favorite hotels in Greenwich Village.
IMAGES VIA: ngader and NYCArthur on flickr