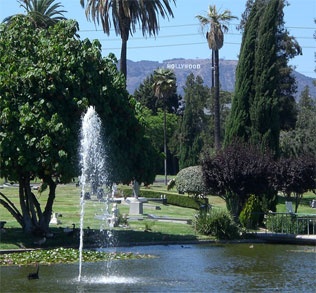 The Hollywood Forever Cemetery is the final resting place for many of the greats of Hollywood's Golden Age. Originally known as the Hollywood Memorial Park Cemetery, the rundown cemetery was purchased by Forever Enterprises in 1998 and renamed the Hollywood Forever Cemetery. The restored and refurbished cemetery with two huge indoor mausoleums and countless outdoor graves is home to a number of important personalities from the entertainment industry like Cecile B. DeMille, "Alfalfa," and Rudolph Valentino along with Johnny Ramone and Dee Dee Ramone.
From the start, this place has had a nostalgic and creepy feel to it. There have been many sightings over the years along with reports of chilling "cold spots." Forgotten actress Virginia Rappe is said to often be seen weeping near her grave and Rudolph Valentino has been seen near his crypt.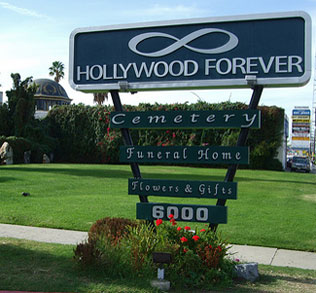 The Hollywood Forever Cemetery also offers some very unique services. For example, the chapel is equipped with a huge video screen for biography tributes during services and is also equipped for live worldwide web-casts of funeral services. During the summer, movies are screened at the cemetery. Hundreds of people come armed with beach chairs and picnic baskets to view films projected onto the side of one of the buildings. The cemetery is also home of the "Dia de Los Muertos" which commemorates beloved souls.
The Hollywood Forever Cemetery is located at 6000 Santa Monica Boulevard in Hollywood, adjacent to the back of Paramount Studios. You will need a map if you are going to locate any of the stars' burial sites. Maps are available at the flower shop at the entrance to the cemetery.
People often confuse the Hollywood Forever Cemetery as being the resting place of Marilyn Monroe (which it's not). Marilyn is buried in the Westwood Memorial Park Celebrity Cemetery which is a tiny cemetery near UCLA where you will also find the final resting places of many famous stars including: Dean Martin, Roy Orbison, Walter Matthau and Don Knotts.