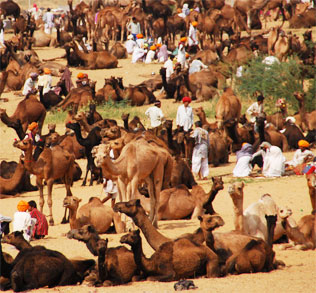 Each November before the full moon, thousands of people go to the banks of the Pushkar Lake in the holy city of Pushkar in the state of Rajastan, India, to be a part of the amazing Pushkar Camel Fair. During the full moon days, a tented city is created adjacent to Pushkar Lake where people from around the globe cover the sand dunes to enjoy the festivities, trade livestock and handicrafts, participate in camel races and experience music, dance and drama. The colors, music and festivities of the annual Pushkar Camel Fair make for a magical experience that visitors are sure to never forget.
The fair is serious business for villagers, some of whom spend days traveling across the desert hoping to turn camels into much needed cash. The men buy and sell their livestock, which include camels, cows, sheep and goats while the women go to the stalls full of bracelets, clothes and fabrics. The festival starts off with a camel race and days are filled with fun and activity. Exhibitions and competitions such as the "matka phod," "moustache" and "bridal competition" are the main draws of the fair for the tourists. In the evenings, it's all about the music and dance with the revelry continuing deep into the night.
From Delhi, regular trains are available and there are also direct trains from Mumbai, Ahmedabad, Chennai and Bangalore.