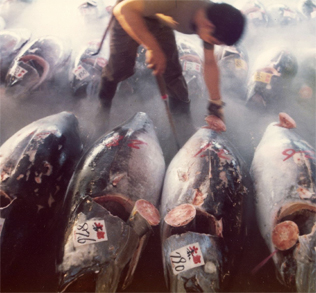 The Tsukiji Fish Market is a wholesale market that handles the distribution of fish, fruit, vegetables, meat and flowers for metropolitan Tokyo. The market is the largest fish and seafood wholesale market in the world handling over 3,000 tons of 450 different types of seafood each day. The vibrant atmosphere of buyers and sellers running around, scooters buzzing by and forklifts loading trucks attracts tourists from around the world and has turned the Tsukiji Fish Market into a major tourist attraction.
The market is divided into two sections: one for wholesale known as the inner market and one for retail known as the outer market. In the inner market, close to a thousand licensed wholesale dealers operating in small stalls hold auctions and process the majority of the fish. The outer market consists of a mixture of wholesale and retail shops that sell everything from seafood to Japanese kitchen tools. There are also many restaurants, especially sushi restaurants, in the outer market.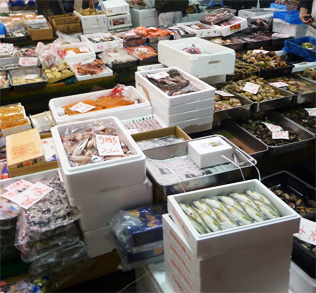 Held in the early morning hours, the tuna auctions are the main attraction and are a sight to be seen. However, the market's recent popularity and rising number of visitors has been a source of friction between the market workers and tourists. As a result, tourists are now asked to visit the tuna auctions between 5:00 am and 6:15 am only and must view the activity from a designated visitor area. Market organizers actually prefer that visitors arrive after 9am as various issues have arisen due to the increased number of tourists such as sanitation management problems, temperature control issues and problems with visitors impeding the auction and other trading activities.
To reach the Tsukiji Fish Market via subway, take the Oedo line to Tsukijishijo Station. Many Tokyo day tours include a stop to explore the Tsukiji Outer Fish Market. There is also a very popular Tsukiji Fish Market tour that allows participants to wander through the many packed stalls after which you can participate in a sushi-making class at a sushi restaurant. During the class you learn the art of making sushi before sitting down to enjoy your very own creations for lunch.