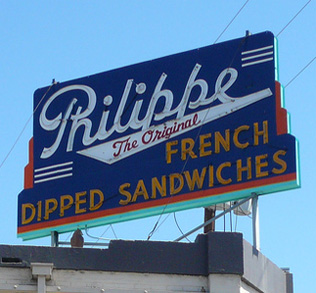 Yesterday, after retweeting an article from TravelDudes entitled "10 Great Cheap Places to Eat in New York City", we received a request for an L.A. version. Eating cheaply and eating well on the road in big cities can get expensive. Having lived and worked in Los Angeles for several years, we're happy to compile a list of some of our favorite places to eat cheaply while in Los Angeles. Here are our top 10 cheap places to eat in Los Angeles:
Hungry Pocket (Mediterranean) 1715 Pico Blvd, Santa Monica, CA 90405 – A great hole-in-the-wall where the food is cooked right in front of you. The gyros here are unbelievable, the chicken kabobs are tender and don't forget the hot sauce. The fresh juices are hand squeezed, incredibly frothy and worth a try. There are specials here everyday of the week. The service is friendly and you can get a great meal very cheap.
Hodori (Korean) 1001 S. Vermont Ave, Los Angeles, CA 90006 – The legendary Hodori is located in Koreatown and is open 24/7. While the food tastes just as good during the day, it seems to taste best after a long night of partying when Hodori transforms into a bustling, often rowdy, diner until the wee hours of the morning.
Gilbert's El Indio (Mexican) 2526 Pico Blvd, Santa Monica, CA 90405 – This Santa Monica institution is considered by many as the best Mexican food in L.A. This family owned restaurant is super cheap, only takes cash and has tons of character as it is decorated with Mexican and Native American themed artifacts and Christmas lights. It is usually packed and doesn't take reservations, so add your name on a list, pull up a chair, and grab some margaritas.
Philippe's (Sandwiches) 1001 N Alameda St, Los Angeles, CA 90012 – Located a block north of Union Station and Olvera Street, Philippe's is one of the oldest and best known restuarants in L.A. Besides having the distinction of creating the french dip sandwich in 1918, Philippe's is also known for serving hearty breakfasts. This place can get really packed, so be prepared to wait in line.
Hara Sushi (Japanese) 12222 Wilshire Blvd, Los Angeles, CA 90025 – Hara Sushi is primarily known for two things: huge portions of sushi for a moderate price and a great happy hour that last until 9:30 pm. The quality is better than one might expect for such a deal and every meal is accompanied with miso soup and edamame for the table.

Govinda's Natural Food Restaurant (Vegetarian) 3764 Watseka Ave, Los Angeles, CA 90034 – Govinda's is a cafe at the Hare Krishna temple just off Venice Blvd. and is the place to go for one of the cheapest filling and healthy meals in L.A. They charge by the pound and also offer an "all you can eat" option for a flat rate.
Cafe Bravo (Middle Eastern) 2662 Griffith Park Blvd, Los Angeles, CA 90039 – At Cafe Bravo in Silver Lake, the portions are big. For $10 or less, you can get a meal that very well may hold you over for two meals. You get your choice of meat, two side dishes, rice and pita bread. The menu is extensive and there are various vegetarian options including a veggie kabob plate, a mixed veggie plate and a veggie sandwich.
Baby Blues BBQ (Barbeque) 444 Lincoln Blvd, Venice, CA 90291 – With peeling paint, mismatched tables and chairs, and odd stuff hanging on the walls, the Baby Blues BBQ oozes with atmosphere. If you're a barbeque junkie, this is the spot for you. It is a fun experience with great, "fall off the bone" barbecue.
Pink's (Hot Dog Stand) 709 N La Brea Ave, Los Angeles, CA 90038 – Pink's is the most famous hot dog stand in L.A. and perhaps the entire country. Located on the corner of Melrose and La Brea, Pink's can be found by looking for the crowd of people lined up outside. While it's a bit touristy and the lines are long, the wait is worth it.
Tito's Tacos (Mexican) 11222 Washington Pl, Culver City, CA 90230 – Tito's Tacos offers crunchy shredded beef, cheese and lettuce tacos for $1.50. Tito's is cash only, often has long lines and is crowded, so there's not always a place to sit and eat. However, it's still worth a visit as it's an L.A. institution.