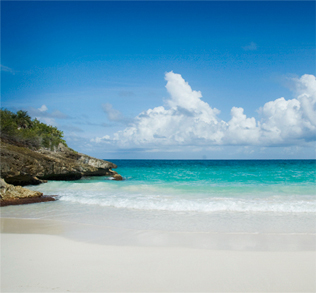 Vieques is an island-municipality of Puerto Rico located six miles east of the main island of Puerto Rico. For over sixty years the island was closed off and used as a major U.S. naval base. As a result, the island remained undeveloped for tourism. Now its key attraction, the sleepy, unspoiled island with its deserted beaches, is rapidly becoming a popular destination. Much of the island is now part of the U.S. Park Service. The U.S. Park Service maintains the dirt roads that lead to isolated beaches with crystal-clear, blue water. Vieques is perhaps best known for Mosquito Bay, a pristine bio-luminescent bay filled with dinoflagellates (organisms that make the water glow) that is magical to swim in.
Mosquito Bay offers one of the most brilliant displays of micro-organisms that light up in a blue glow whenever there is movement in the water. Night swimming is a must as the glow around you when you move in the water is very cool. Glittery sparkles appear on your arms and chest as you float in the water as if you have little lights all over you. There are many boat tours and kayak trips around the bay which are very easy to arrange. There are also day and night excursions from the big island of Puerto Rico.
Visitors can fly to Vieques from San Juan or take the ferry from Fajardo which takes about an hour and a half and runs twice a day. Accommodation is limited, but there are a few hotels in Vieques.
IMAGE VIA: *AStarWithin* on flickr