Home » Lifestyle + Culture, travel activities
Go Where No Tourist Has Gone Before – Turtuk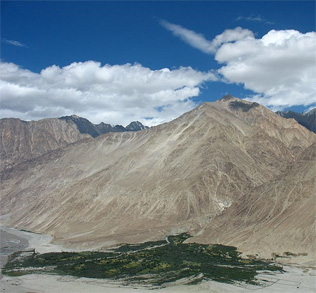 Foreign tourists now have the opportunity to visit Turtuk in the Nubra Valley of Ladakh in remote northern India. Jammu and Kashmir tourism minister Nawang Ringzin Jora is quoted in the Telegraph India as saying, "It (the Union ministry's move) will place Nubra Valley prominently on the world tourism map… After the current relaxation, foreign tourists can go in twos. Permits for visiting these areas are issued by the concerned deputy commissioner." He went on to say, "From now on, tourists will be able to travel along the banks of the Pangong Lake."
Located at an altitude of 18,380 feet, Turtuk in Ladakh is a picturesque border village situated along the famous Silk Route that has quite a past. Most recently, Turktuk was one of the biggest stages of the Kargil war in 1999 when Pakistan troopers occupied a small area on the ridges overlooking Turtuk. Locals depend on farming and providing mules and porters to the Indian Army.
According to the Telegraph India, "The tourist season, which used to be confined to July-August, now extends from May till the end of October."
Special thanks to our friend Greg Abbott who tipped us off on this story.
IMAGE OF
NUBRA

VALLEY VIA:

Shefshef

on

Wikimedia

Commons