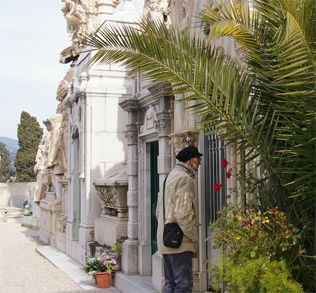 It has been Greek, it has been Roman, it has been Italian and it is now French. Yet, throughout the ages, Nice has always been Niçois; or is it Niçard? Maybe it's neither. My French is awful and my Niçard is nonexistent, but the individuality of Nice is indisputable. There are spots throughout the world where an area has been subject to one conqueror or another and, yet, has always stayed true to itself. When a new culture holds sway here, the area has changed the culture rather than the opposite holding true. Despite the city of Nice not being excessively large, it is one of the most cosmopolitan of all the world's cities.
Nice seems to have it all. The old world shines through in the ruins of Cemenelum and in the Colline du Château which sits above the city like an empress dowager, offering some of the best possible views of the Côte d'Azur. Yet, Nice is not a city lost to antiquity. The nightlife beats with vibrancy and cool jazz. Yes, the child of America and Africa is reared well in this city in southern France. For jazz aficionados, Nice is a city like no other.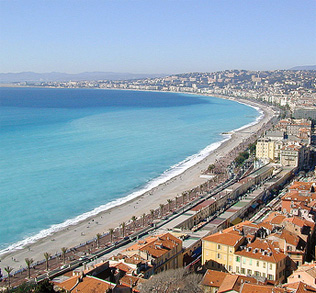 The beaches here manage to be fantastic despite their unforgiving texture. The sand there is not sand at all. Instead it is a rocky place where cushions and bathing sandals are the rule rather than a preference. Still, floating in a warm, Mediterranean bath of saltwater that touches Nice is fine and lovely. Afloat in the warm water, you look out in sublime ecstasy and, if you are American, you might wonder what it is that draws offense against the human female breast. Yes, the beaches of France have the supreme advantage of all being top-optional. Though, it does not take long for the relative nudity to become as commonplace as any other kind of swimming attire.
The sights are excellent. The largest Russian Orthodox church outside of Russia is here; a reflection of the days when the Russian aristocracy used to escape Russian winters. The lovely Promenade des Anglais was built by Englishmen on holiday. The Matisse Museum is wonderful as is the Chagall Museum. The food of the area is wonderful, combining the bounty of the sea with the legendary cuisine of Provence.
Getting to Nice is simple. There are flights coming in from New York, Paris, London and other cities. Nice is on the TGV rail system, making most of the Riviera within easy striking distance. Even far away Paris is less than a six hour trip. Italian trains also arrive in Nice, yet these routes are older, slower trains. You can also come in by boat from places such as Corsica. However you get there, Nice is a fantastic city.