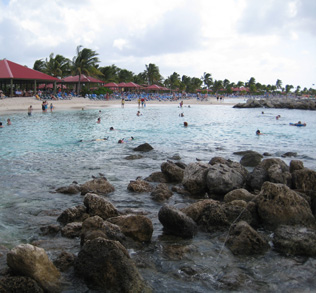 Princess Cays is located on the southern tip of Eleuthera, one of the most beautiful islands in the Bahamas. Cruise ships drop anchor offshore in order to protect the delicate coral reef. Visitors then take the cruise ships' tenders to the Love Boat Marina. The private island, owned by Princess Cruises, is a bit like a beach camp. The island offers various beach activities including snorkeling around a coral reef with schools of tropical fish as well as offering water sports equipment such as kayaks, Hobie Cats and more. A collection of very colorful cabanas add vibrancy to the beach scene and are available for rent.
While the 40 acre island is very crowded, the south beach side of the island is less crowded than the north beach side. Three beach bars on the island offer a selection of frozen fruity drinks like Loco Coco and Three Berry Daiquiris while playing cool, island music. The little colorful market located behind the marina is also worth a quick look around.
The lines for the beach barbecue and the return tender are long, but it's par for the course when you have 3,000 people in one place trying to do the same things.